Oakseed Ministries International Seeks Voices for the Voiceless: Children in Prison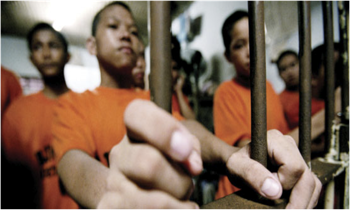 Oakseed Ministries International today announced their sixth annual essay contest for youth on the topic: Compassion and the Imprisoned Child. Through this topic, students are invited to explore the issues facing children in prison and to offer innovative ideas to help these children.
According to the United Nations, over one million children worldwide are living in prison without any legal assistance or possibility of a fair trial. Yet less than 15% of crimes are actually committed by children. In South Africa, over 150 children under the age of five are living in prisons with their mothers, many having no alternative caretaker.
"It is tragic to know that in our world today over a million children age 4-14 are in prison," said Ed Bradley, president of Oakseed Ministries. "By hosting the Compassion and the Imprisoned Child essay contest, Oakseed Ministries hopes to empower children here in the U.S. and around the world to think critically about the global problem of the imprisoned child. We can all learn by listening to the insights that young people bring to the issue of compassion for children in prison."
Oakseed is also hosting an interactive website for youth that is designed to help young people to think critically about the issue of child imprisonment. The website will feature insights from experts on the imprisoned child as well as interactions with other sites focusing on child imprisonment. The interactive website is located at
http://essay.oakseed.org
The deadline for the essay contest is May 1, 2010. First place, second place and honorable mention prizes will be awarded for the amounts of $1000, $500, and $250. The two age categories are 17 & Under and 18-22. To read the complete guidelines for the 2010 Essay Contest on Compassion and the Imprisoned Child or to submit your essay, visit
http://essay.oakseed.org
. Guidelines are also available by emailing
essay@oakseed.org
or calling (toll free) 877-876-9020.
Submitted essays are not clinical assessments of child imprisonment, but personal responses to the crisis of the imprisoned child. The essay is a part of a yearlong effort to raise awareness of the plight of imprisoned children that will culminate in the Annual Day of Prayer for Children at High Risk on Sunday, June 6, 2010.
Oakseed Ministries International is a faith-based non-profit organization that seeks to respond to God's heart by defending the cause of the poor, the fatherless and society's castoffs in the megacities of the developing world. Oakseed assists over 26 ministries worldwide that serve abandoned children and the poor. For more information, please visit
www.oakseed.org
.
Email Oakseed Ministries International