Barrie Condo Team sponsors the 12th Annual Barrie Film Festival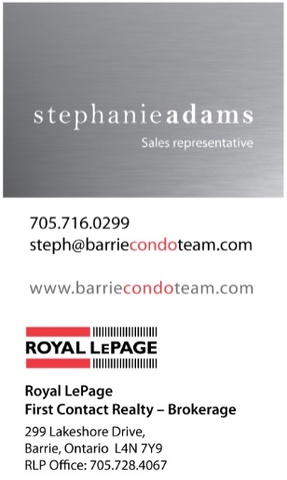 Barrie, Ontario October 6, 2009 – Stephanie Adams, Sales Representative, Barrie Condo Team - Royal LePage First Contact Realty Brokerage, announced the sponsorship of the 12th Annual Barrie Film Festival today.
"We are very excited for the Barrie Condo Team's 2009-2010 year-long director level sponsorship commitment," stated Claudine Benoit, Director of the
Barrie Film Festival
.
"We have made a strong commitment to sponsoring arts and culture in Barrie," said Stephanie Adams. "I am personally looking forward to seeing Easy Virtue, the movie that we sponsored. It will be a festival favourite." The
trailer for Easy Virtue
staring Jessica Biel and Colin Firth, can be viewed here on the official web site.
About the Barrie Condo Team:
Stephanie Adams focuses on Barrie condo and townhome sales with
Royal LePage in Barrie
- First Contact Realty Brokerage. Stephanie is a regular contributor of condo and townhome sales tips, blog posts, and articles featured in SNAP Barrie Magazine. For more information, visit
BarrieCondoTeam.com
, find us on Facebook, or follow @BarrieCondoTeam on Twitter.
About the Barrie Film Festival:
The Barrie Film Festival (BFF) began as a small group interested in film that organized film screenings as a project of our local gallery, and over the years has become a Barrie-based celebration of film. In 2006, through that same passion and a commitment to sharing the art of cinema, the Barrie Film Festival formed its own Board of Directors from the earlier planning committee. This decision was rooted in a desire to developing film as a distinct art form in the City of Barrie. By being its own independent, not-for-profit organization, the BFF has been able to focus on its mandate and create a clear vision for the group.
Media Contact Barrie Condo Team:
Chris Adams
705.220.5898
Media Contact Barrie Film Festival:
Claudine Benoit
705.739.4935
Email Barrie Condo Team - Royal LePage First Contact Realty