New online service aims to eliminate green card lottery scams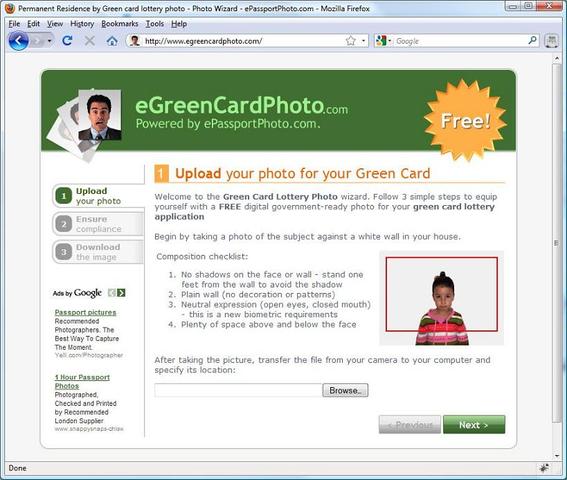 Palo Alto, Calif. – October 8, 2009 - Every year millions of people submit their application to the Diversity Immigrant Visa program, also known as the green card lottery – more than 13 million applied last year. Submitting the application is free, but the process is complicated by stringent photo requirements. The applicant must submit a digital passport photo that adheres to various specifications, such as a minimal color depth (24-bit) and resolution (150 dpi).
The complex requirements have generated a market for services offering submission to the green card lottery at a hefty price of $50-$150. In many cases, such services use misleading and illegal techniques to acquire customers (for more information, see the FTC's Consumer Alert at
www.ftc.gov/bcp/edu/pubs/consumer/alerts/alt003.shtm
). The government's forms are simple, and the application is free, but nevertheless people have turned to these services due to the stringent photo requirements.
www.eGreenCardPhoto.com
is a new online service that enables anyone to create a fully compliant digital photo for the green card lottery. The service is 100% free, and is sponsored by ePassportPhoto.com, the leader in online passport photos which has served millions of customers since 2005. By following three simple steps, eGreenCardPhoto.com makes it easy and free for anyone to apply to the green card lottery while avoiding the green card lottery submission services, often known as green card lottery scams.
About
www.eGreenCardPhoto.com
ePassportPhoto.com is the leading online passport photo Web site and has been operating since 2005, revolutionizing the way people obtain passport photos. ePassportPhoto.com offers a branded service, as well as a white-label solution that allows photo ID providers, such as universities, sports facilities and credit card companies, to shorten the application and review processes and significantly reduce costs. ePassportPhoto.com is a privately held company headquartered in Palo Alto, CA. For more information about ePassportPhoto.com, visit
www.ePassportPhoto.com
Email eGreenCardPhoto.com