The Pillars of the Lean Marketing House Webinar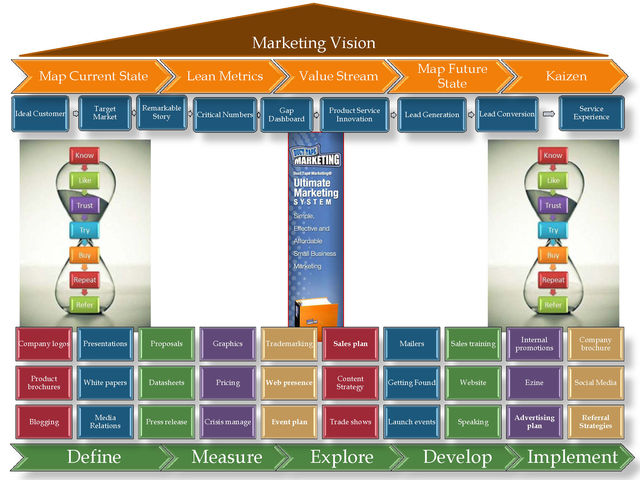 Business901 introduces The Pillars of the Lean Marketing House; learn how to utilize the Duct Tape Marketing Hourglass and other techniques in the use of the hourglass that were discovered implementing this concept. Joe Dager, a Lean Six Sigma Black Belt and authorized Duct Tape Marketing Coach will present these topics. Information can be found at Business901.com
John Jantsch, author of Duct Tape Marketing calls the Marketing Hourglass a cornerstone of the Duct Tape Marketing. This Webinar will include the Duct Tape Marketing Principles such as Know, Like, Trust, Try, Buy, Repeat and Refer that make up the hourglass.
Dager added, "The Duct Tape Marketing Hourglass is an integral part of the Lean Marketing House concept. Applying Lean and Theory of Constraints to this concept opens up a completely different understanding of the Hourglass. It simplifies it for many individuals and companies that have difficulty looking at marketing as a system. It puts theory into actual practice. I have not found a quicker and easier method from converting a stagnate and non-systematic marketing effort into a flood of increased sales. Not only will this method increase sales, but typically it will decrease your marketing cost in a relatively short period. The end result also includes a continuous improvement process to keep your marketing ahead of the competition."
John Jantsch added, "I started using the concept of the marketing hourglass. The top half indeed resembles the funnel concept, but the expanding bottom half, to my way of thinking, adds the necessary focus on the total customer experience that ultimately leads to referrals and marketing momentum."
The Pillars of the Lean Marketing House Webinar discusses the implementation of the hourglass in a 60-minute webinar based specifically on addressing these issues:
1. Duct Tape Marketing Principles of Need = Know, Like, Trust, Try, Buy, Repeat, Refer
2. Creating a Current State Map
3. Simplifying and removing waste in your marketing
4. Segmenting your Customer Base
5. Creating a Customer Centric Budget
6. Creating the PDCA Cycle
7. Determining your Constraint
8. Why your Marketing Hourglass will fail without this!
The Duct Tape Marketing system allows you to create and build your very own marketing system complimented by a coaching system that has proven effective with small businesses for over 20 years. The system is perfect for those who already own a business, but want to make it soar. This system will help build the perfect business establishing a proven marketing system to their growing company. "The uniqueness is that I will actually work with you, installing and implementing a repeatable and measurable process. It is not about software, the book or even the plan, it's about the process that you leave behind." says Dager.
About Joe Dager: Joe, the owner of Business901 is a Duct Tape Marketing coach and a Lean Six Sigma Black Belt. Busienss901 is a progressive company providing direction in areas such as Lean Six Sigma marketing and organized referral marketing. Joe provides practical, information-rich, immediately applicable direction that can have immediate impacts on the success of small and mid-sized businesses. His experience includes numerous start-ups, several turnarounds in variety of industries to include manufacturing, retail, and professional services to include marketing.