Chassis Plans Introduces CCX-17 & CCX-19 Rugged Military Grade 1U LCD Keyboard Drawers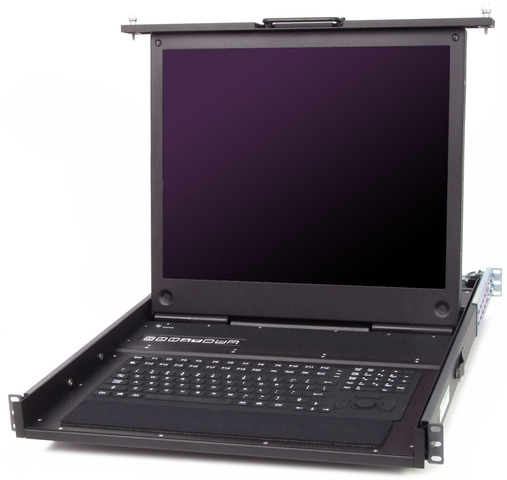 San Diego, Calif – October 13, 2009 - Chassis Plans, The Original Industrial Computer Source®, a leader in providing rugged rackmount systems to the military and other challenging markets, today introduced the CCX-17 and CCX-19 Military Grade 1U Rackmount LCD Keyboard drawers.
The displays are 17- or 19-inch TFT LCDs providing 1280x1024 resolution. A contrast enhancing glass Anti-Reflective (AR) filter is bonded to the LCD for superior contrast in high bright environments. A separate bonded layer provides an ITR EMI filter across the face of the display. Three military grade Genesis LCD controllers are available providing a mix of features with aRGB VGA, DVI-D, DVI-D and video inputs. Picture-In-Picture is supported in one of the controllers. The controllers are conformal coated for environmental and shock/vibration protection and support operating temperatures of -40 to +80 Deg C.
The silicon rubber keyboard provides full travel with tactile feedback for ease of typing. The keyboard is sealed to NEMA-4 / IP65 standards and is spill proof, important where Coke and coffee are routinely spilled on these in use. A sealed pointing device is built into the keyboard. A wrist pad is provided to make typing more comfortable.
Construction is of 5052-H32 aluminum alloy. The front panel is milled from a solid 1/4" billet for strength. Fasteners are stainless steel and thread into self locking nuts. The front handle folds to protect the user and captive screws hold the unit closed in the rack. The unit is 24.4-inches deep including the provided cable management arm. Rugged friction slides are provided. Friction slides were selected as more rugged than ball bearing slides and less prone to jamming due to dust and dirt in the balls. The systems are designed to meet and being tested to 901D and 810G.
A family of rugged KVMs are available providing 4 and 8 ports of DVI-D or VGA inputs with USB and PS/2 keyboard/mouse connection. Tempest qualified KVMs can be provided for Red/Black signal separation. The KVMs can be controlled via the keyboard front panel membrane switch, via keyboard shortcut commands, or remotely via RS232 commands. Front panel LED port selection indicators are provided.
Native power is +12VDC and a rack mount 110/220VAC supply is provided. Options are available for a vehicular 12VDC transient filter, Mil-Std-704/1275 28VDC power, and -48VDC inputs.
Said Steve Travis, Sales VP for Chassis Plans "We've been selling LCDs into military applications for a long time. This new design incorporates features our customers were asking for - ruggedness, high contrast, advanced controllers, spilled coffee proof keyboard, and, most importantly, revision controlled long program life availability."
Features:
* Military grade construction and feature set
* 17- and 19-inch TFT LCDs supporting 1280x1024
* Bonded Anti-Reflective (AR) glass contrast enhance ment filter
* Bonded ITR EMI filter across display
* Up and down scaling of input to native panel resolution
* aRGB VGA, DVI-I, DVI-D, Video Inputs
* Picture-In-Picture
* Sealed spill proof NEMA 4 / IP65 silicone rubber keyboard & mouse pointer
* Multiple input voltage options - 110/220VAC, 12VDC, 28VDC Mil Std 704/1275, -48VDC
* Multiple KVM options with front of display control and active port indication
* Rugged 5052-H32 aluminum construction with milled 1/4" front panel
* Stainless steel hardware and self locking fasteners
* Includes cable management arm
* Rugged friction slides
* Designed to meet Mil Std 901D and 810G - being tested to compliance
* All components selected for long product availability
All components were selected for long availability for assured consistent delivery through multi-year programs. Revision and configuration control are standard across Chassis Plans product lines.
The CCX-17 and CCX-19 LCD keyboard drawers are currently shipping in production quantities. For system pricing and availability, contact Chassis Plans at 858-571-4330 or email
saleseng@chassisplans.com
. See
http://www.chassis-plans.com/Rackmount-Keyboard-Displays/CCX_Rackmount_LCD_Keyboard.htm
for additional system information.
About Chassis Plans
Chassis Plans is a recognized leader in manufacturing fully configured turn-key military grade rackmount computer and display solutions for the industrial, rugged, and military markets. They manufacture a full line of industrial rack mount and panel mount LCD monitors and keyboard drawers. They also manufacture 1U to 6U ATX and Single Board Computer systems tailored exactly to customer application requirements.
Chassis Plans specializes in long-life product support offering unmatched in-house custom chassis design, long-life industrial motherboards and SBC's with strict revision control and material obsolescence management for trouble free program deployment. Key military customers include companies such as L3, Lockheed, and Northrop Grumman. Notable commercial customers include Siemens, Nikon, & General Electric.
Chassis Plans is an SBA certified Mentor to an 8(a) Protégé (minority woman-owned) allowing contract officers to meet their Small Disadvantaged Business contractual requirement while procuring Chassis Plans' technology. Chassis Plans' Systems are Engineered to Perform!® Please visit
www.chassis-plans.com
for more information or e-mail at
saleseng@chassisplans.com
.
Press Contact:
David Lippincott
Chief Technologist
Chassis Plans
8295 Aero Place
San Diego, CA 92123
davidl@chassisplans.com
858-571-4330
www.chassis-plans.com