Paula Scher Limited Edition Prints Of Maps At Stendhal Gallery Chelsea, New York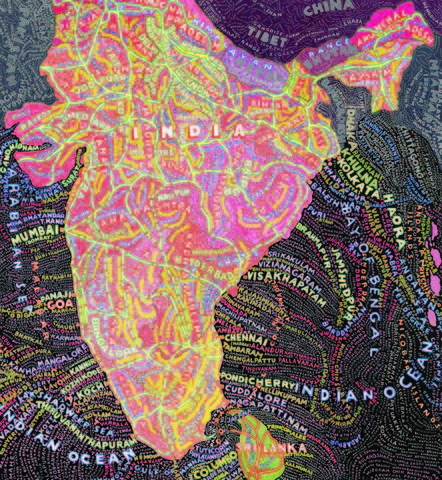 Stendhal Gallery is announcing the release of the limited edition print India, by world-renowned artist and graphic designer Paula Scher. India is being offered at a special pre-publication price of $3,500 each for a limited time. Please contact Stendhal Gallery to reserve your special edition number as we anticipate an enthusiastic response from the public and collectors worldwide.
Limited Edition Prints
Paula Scher is a world-renowned artist and graphic designer. She is a partner at Pentagram Design, Inc. and her work, such as her iconic logo design for the Public Theatre and the Citibank umbrella logo, are so pervasive that they are impossible not to recognize. Already regarded as one of the world's leading graphic designers, Scher began exhibiting her fine art, large-scale acrylic map paintings, at Stendhal Gallery in 2006, catching the attention of both private collectors and institutions alike.
Scher's maps are painted on monumental canvases. Each geographic location is uniquely rendered in its own color-palate reflecting both cultural and personal associations with place. Cities, countries, and continents are meticulously recreated as conglomerations of beautiful color, line and sprawling text. Scher has re-envisioned these geographical spaces as landscapes to reflect the complex intersection of the personal and the political that structures our view of the world. Text stretches over their entirety: the place names, names of geographic features, and geopolitical information, yet this "objective" information is subjectively coded, defined by the artistic choice of color, font, and size. Thus Scher's images are not simply beautiful, but subtly provocative and emotionally resonant.
Paula Scher's hand-pulled screenprints are exquisite renditions of her massive maps paintings. Made in collaboration Andy Warhol's master printer Alexander Heinrici, each print is realized with the same hand-drawn elegance of her painted maps. Paula Scher is involved in every step of the printing process, redrawing new plates in the same style as the master printmakers of the 20th century. Each limited edition print is printed on either Deluxe Lana Quarelle paper, or Coventry Rag after which it is inspected, signed, numbered and dated by the artist, and accompanied by a certificate of authenticity.
There has been much interest generated by India, the spectacular 60" x 40" print being released in an edition of ninety. It pulsates in tropical colors, made to seem all the more exotic by being offset against a black Indian Ocean and Arabian Sea. The print is adorned with gold underscoring the opulence and exoticism colonial powers sought in the country.
Its swirling text and robust and unrelenting color scheme capture a country of contradictions, caught in the flux of its colonial past, its civilian poor, and its bombastic economic growth. Stendhal Gallery is offering India at a special pre-publication price of $3,500 each for a limited time. The price will increase to $5,000 each after the official publication release date of Autumn 2009. Please contact Stendhal Gallery to reserve your special edition number as we anticipate an enthusiastic response from the public and collectors worldwide.
Europe (46 1/4 x 41 1/2) in contrast, is rendered in more subdued but no less beautiful tones, reflecting its time-honored and historic role in the development of the Western ideals that largely shape our world today. Olive greens and mustard yellows intermingle with peach and red tones to present Europe in the monumental fashion it commands.
Also included in the collection of Limited Edition Prints of The Maps series by Paula Scher are: Africa, The Dark World, The United States Red and The United States Blue, China, NYC Transit, Manhattan at Night, and The World. Her paintings have been reviewed and featured in Art in America, New York Times, Esquire Magazine, The New Yorkker, Huffington Post, New York Social Diary, and publications and blogs all over the world. Paula Scher's Maps print series have been collected by print lovers from around the world and are in the collections of companies such as Microsoft, JP Morgan Chase, and HSBC.
Paula Scher's work has been exhibited in the world's leading museums including the permanent collections of the Museum of Modern Art and the Cooper-Hewitt National Design Museum in New York, the Library of Congress in Washington, D.C., the Denver Art Museum, the Museum für Gestaltung Zürich, and the Bibliothèque Nationale de France and the Centre Georges Pompidou in Paris. She has taught for over two decades at the School of Visual Arts, and held positions at Cooper Union, Yale University and the Tyler School of Art.
In 2002, Princeton Architectural Press published her career monograph Make It Bigger.
Scher is an active member of the Art Commission of the City of New York.