Get an Edge: Aesthetic VideoSource Presents: "Clipper Cutting Techniques for Black Men" DVD Series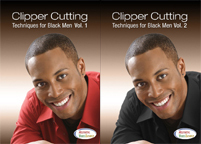 October 16, 2009 - Salt Lake City, UT – Get out the clippers and learn from the "Best Hairstylist in Hollywood" how to provide today's most popular
black mens haircuts
, including styles sported by trend-setting celebrities and the classics that never go out of fashion. Mr. Charles McCoy, owner of the Exclusively Mr. Charles salon in Los Angeles, CA, will show you how to provide the looks seen at red carpet events.
In Aesthetic VideoSource's new instructional DVD series,
Clipper Cutting
Techniques for Black Men (Vol. 1 and 2), Mr. Charles demonstrates step-by-step the easy-to-understand techniques that have made him famous. A working professional with over 20 years' experience, his instruction is clearly presented and his tips are invaluable. With camera close-ups, you'll
learn to cut hair
with his precise techniques to achieve smooth fades, sharp lines, and sculpted results. Adapt your
barber school
technique into your own distinct, yet simple clipper cutting style for an edge behind the chair!
Using regular clippers (freehand and with guards) and outliners, Mr. Charles demonstrates how to provide 11 different hair styles. In Volume 1 (1 Hr. 50 Mins.), Mr. Charles demonstrates how to provide six different haircuts:
Fade Haircut
, Caesar Cut, Afro Cut, Flat Top Cut, Even All Around Cut and Quovatus Cut. In Volume 2 (1 Hr. 30 Mins.), Mr. Charles demonstrates five additional looks: Mini Afro Cut, Perimeter Fade Cut, Tapered Cut, Bald Fade Cut, and Half Fade Cut.
In both
hair cutting videos
, he shows how to edge and outline for sharp lines, including for sideburns, beards (on the neck and along the jaw line), goatees, mustaches, and neckline. In addition to the clippers and outliners, he demonstrates how to cut scissor-over-comb and clipper-over-comb. He also shows how to work with different hair textures and lengths, correct a haircut, save time behind the chair, build clientele, and market your services.
"I love my work. It's a creative art form and I love to create new styles for my clients," says Mr. Charles.
"Mr. Charles is a perfectionist," says Shirley Erickson Gorospe, president of Aesthetic VideoSource. "His finished cuts are crisp from the crown to the neck, and he does a great job explaining how he does it so you can too."
Mr. Charles has been cutting hair since 1989, starting with his family's string of top hair salons in Chicago. He now owns the Exclusively Mr. Charles salon in Los Angeles, CA, providing services to Hollywood celebrities, top athletes, and Grammy-winning musicians, in the salon and on sets. Mr. Charles has received numerous awards at shows and has been voted "Best Hairstylist in Hollywood" multiple times. His all-natural, hair-enhancing line of hair care products designed for his elite clientele is now available to the public.
Aesthetic VideoSource produces and distributes detailed, comprehensive health and spa instructional DVDs, so anyone can properly perform the procedures shown. Aesthetic VideoSource is the forerunner in educational media distribution, with award-winning DVDs and an always-expanding list of offerings to meet the spa and beauty industry's needs.
Contact Info – Each Clipper Cutting Techniques for Black Men DVD can be ordered for $49.95 plus shipping, by calling 1-800-414-2434 or visiting
www.VideoShelf.com.
The complete set (Vol. 1 and 2) can be purchased for $80, at a savings of 20%.
Email Aesthetic VideoSource