Introducing Andre Originals Limited Stock Clearance.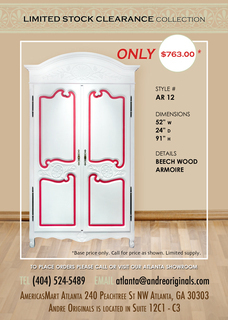 Andre Originals, manufacturer of fine furnishings since 1953, is temporarily closing out many of their long running, popular line items. The result is Andre Originals Limited Stock Clearance collection.
About the collection
Each piece in the Limited Stock collection has been hand chosen and styled by Andre Originals brilliant Atlanta showroom manager, design connoisseur Anne Morecock.
The collection features products such as illuminating gloss finished casegoods, handsome tufted chairs and benches, French reproduction dining tables and much more. All products featured in the collection are marked down below regular list price.
Customers may purchase designs fashioned by Anne - as shown in marketing materials - or create their own. Items in the collection will be made available in all of Andre Originals 50 plus premium finishes and endless array of upholstery options. Andre Originals does not charge for C.O.M.
New Limited Stock Clearance specials will be made available by email weekly. To find out what products are being made available signup for Andre Originals email list at
www.andreoriginals.com
or call their Atlanta showroom at 1 (404) 524-5489.
Andre Originals manufactures custom furnishings and sells to the trade only.
Email Andre Originals Mfg Co