Find Waterfront Properties in Southwest Florida through a Remarkable New Realtor Website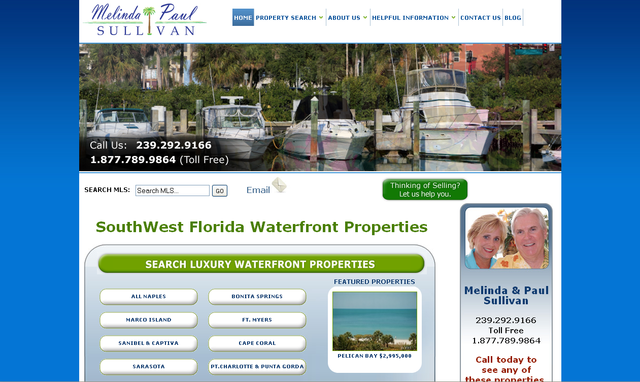 Xcellimark, an award-winning web design and Internet marketing firm headquartered in Orlando Florida, presents the latest in real estate website technology with its recently launched website for Melinda and Paul Sullivan, Southwest Florida Realtors:
www.SouthwestFloridaWaterfrontProperties.com
. The website provides visitors with a comprehensive, fast and effective way to search for waterfront properties in Southwest Florida.
Visitors can conduct detailed property searches based on property type, view, number of bedrooms, amenities, area, community, square footage, price range, target price and so much more. For those who want to find waterfront properties in less time, there's a "Quick Search" option that locates properties by address, MLS ID, city/area, community or sub-division. From the home page visitors can quickly find home or condo listings by city either from a drop down menu, quick search buttons, or from a map showing where each city is located on the Florida coastline.
"We believe this website will become the leading waterfront real estate website for Southwest Florida. It is unique in that it specifically targets waterfront properties by area, offers enhanced presentation of MLS real estate information and has many features that make it easier for the user to research and find properties that fit their interests. The website is also built to be very search engine friendly and comes with a unique admin area that makes it easy for Melinda and Paul to manage the website themselves. This will save them considerable time and money both in the short and long term. If you are interested in buying or selling a waterfront property in South Florida this is THE site that someone will want to check out. It is the best real estate resource in its market," said Scott Lambert, President of Xcellimark.
The website also provides visitors with all the information available about each property including features, photos, video tours and instant city or property viewing via interactive Google maps.
"Our new website is more than we even dreamed of. It's a fully customized website with sophisticated programming and every custom feature we asked for, designed by the web specialists of Xcellimark. In addition to being completed in a timely manner, the website looks beautiful and is exceptionally functional. We can't wait for people to experience the ease and degree in which they can find the waterfront home or condo of their dreams from the convenience of their own computer," said Melinda Sullivan, Southwest Florida Realtors.
About Xcellimark
Xcellimark is an award-winning Internet Marketing firm based in Orlando, Florida with clients throughout the US and Canada. Xcellimark specializes in web design and development, search engine marketing and rich media, providing clients with the means to receive qualified sales leads using a skilled online conversion process. Through their unique approach to Internet marketing, Xcellimark has significantly increased their client's qualified sales inquiries and has helped clients grow their business. For more information on how Xcellimark can help you improve your bottom line, contact Scott Lambert at 407-678-3062 or visit
www.xcellimark.com
.