Storm's 6" Grounding Bar Raises the Industry Standard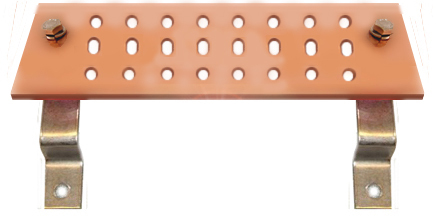 Storm Copper Components
, leading manufacturer of ground bars and connectors for electrical grounding now offers 6" grounding bars with optional mounting kits that raise the industry standard from what has been historically a 4" bar.
Based on input from professionals attending the National Association of Tower Erectors (NATE) conference, Storm introduced UL-listed 6" solid cold-drawn copper ground bars as a better means to divert maximum current associated with lightning strikes common to communication towers and antenna installations. The
6" ground bars
also offer a big advantage in space for an increased number of cable attachments. Four-color illustrations are available online in lengths ranging from 6" x 12" to 6" x 48" with numerous drilled and slotted-hole configurations.
Available in.25" thicknesses, the 6" x 12" version of this product has a drilled hole configuration that provides 12 - .41" drilled holes, EIA spaced at 1.5" with 6 slotted holes, providing greater space for attaching multiple cables with compression lugs. The additional size also provides 2" spacing from the outside edge, instead of the standard 1-3/4", which serves to further isolate connections. Storm's 6" grounding bars are also sold in custom length-configurations available with quick turnaround time, thanks to the company's
computer-controlled fabrication process
.
Storm computerized flexible tooling system is designed to reduce set up and production time on special orders and that's huge according to owner, Dan Kitts. "Our custom orders usually ship in two to three working days, compared to three to eight weeks that are the industry norm. That's obviously a significant advantage for time critical installations," he said.
Mounting kits are available with the 6" grounding bars, each includes a solid copper ground bar with 2 - UL recognized standoff insulators; 2 - stainless mounting brackets; 4 - stainless 5/8 – 1 x 1 hex bolts and spring-lock washers. Kits for larger sizes include additional components proportionate to length.
Storm also offers tin electroplating plating on standard and custom 6" ground bar orders. Tin plating reduces the possibility of corrosion that can interfere with the grounding connection, and also disguises the copper color, which serves as an additional theft deterrent, and makes the copper unusable for illegal recycling.
Security bolts for ground bars are also available to prevent theft. Manufactured from stainless steel in 3/8" and 5/8" sizes, the bolts can only be removed by a special tool, included in the ground bar security bolt packages sold at
Storm Copper's online electrical grounding store
.
Storm Copper Components Co. specializes in the manufacture of custom electronic components for the wireless, telecommunications, power and alternative energy markets, serving OEM's, electrical contractors and system installers for almost 20 years.
For more information, or to schedule an interview with Dan Kitts, please call Dave Krikorian at 423-506-4178 or email
dkrikorian@stormcopper.com
.
Email Storm Copper Components