Give "Thanks" with Orlando Catering Company Bubbalou's BBQ this Thanksgiving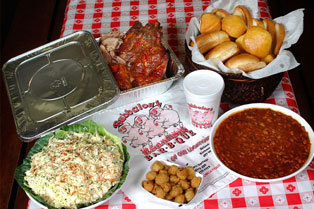 This Thanksgiving, more people are going beyond turkey, dressing and the usual side item suspects and preparing non-traditional meals for friends and family. Whether they are having these unique meals catered or picked-up via take-out, this year's Thanksgiving menus can be as unique as people want them to be. One ordinary Thanksgiving menu option is BBQ.
Bubbalou's, an award-winning restaurant and
Orlando catering
service, provides
BBQ catering
and convenient
Party Packs
that can be picked up or delivered. At Bubbalou's, someone can order only meats such as beef, pork, spare ribs and turkey (for those who want a traditional Thanksgiving meal) to go with side dishes already prepared or let the staff handle the whole meal, including side items, beverages and dessert.
"Spend less time in the kitchen and more time with family and friends this Thanksgiving with help from Bubbalou's catering services and delicious BBQ Party Packs. If you want your Thanksgiving event fully catered, we take care of everything from preparing the food to serving it. We'll even handle decorations if you are planning a large Thanksgiving party. It's easy to order – just give us a call or stop by any one of our two Central Florida locations and we'll handle the rest," said Bucky Weston, owner of Bubbalou's BBQ Restaurant in Altamonte Springs, Florida.
The holidays are about spending time with loved ones and fellowshipping over good food. Since Bubbalou's can take care of everything, people will have more time to enjoy their time off during the holidays. So whether they need full barbecue catering services or a Party Pack for quick pick-up, Bubbalou's can help them make their Thanksgiving meal a success.
Bubbalou's is closed on Thanksgiving day so make sure orders are placed in plenty of time for pick up no later than Thanksgiving Eve. Start planning a Thanksgiving Day menu now by visiting Bubbalou's on the Web at
www.bubbalouscatering.com
About Bubbalou's BBQ:
Since 1986, Bubbalou's has been serving Central Florida's best BBQ. The winner of numerous food awards including The Orlando Sentinel Reader's Poll Best BBQ 14 years in a row, Best BBQ Dive in America by the Food Network and Best BBQ by Orlando Weekly readers, Bubbalou's BBQ Restaurants also offer award-winning catering service for Orlando and Central Florida.
Bubbalou's catering menu has various barbeque favorites from Hamburgers to famous barbeque Chicken, Beef, Pork, and mouth-watering Ribs, all smoked and cooked to perfection. In addition, you'll receive Bubba's best Baked Beans, creamy Cole Slaw, and oven-baked Brownies. Bubbalou's catering service is second to none for the Orlando and Central Florida area. See for yourself how Bubbalou's catering service can liven up any office party, wedding, picnic, or other special event.
Contact:
Bucky Weston, Owner
Bubbalou's Bodacious Bar-B-Q - Altamonte Springs, Florida
Phone: (407) 965-1286
Catering Phone: (407) 966-4788
Joe Clark, Manager
Bubbalou's Bodacious Bar-B-Q – Kirkman/Conroy, Orlando, Florida
Phone: (407) 278-8770
Catering Phone: (407) 278-4044
Email Bubbalou's Bodacious Bar-B-Q