EARTH FARE to OPEN DECEMBER 9 in CHATTANOOGA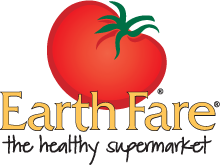 (CHATTANOOGA – November 5, 2009) – Earth Fare, the healthy supermarket, based in Asheville, NC, will open its next store location in Chattanooga on December 9 at 8:00 a.m. Earth Fare's mission is to feed and inspire the healthy person inside us all by offering a healthy variety of organic, local and nutritious foods.
Earth Fare wants everyone to join them on the journey to health. To get people started, the company invites all Chattanoogans to participate in the Pantry Makeover program. Earth Fare's pantry makeover is simple: Start the health journey on
http://www.EarthFare.com
and get a coupon for a FREE pantry makeover. Then trade-in conventional peanut butter, jelly, salad dressing, cereal, and soda (with hydrogenated oil, high fructose corn syrup, artificial colors, flavors and sweeteners) and get comparable Earth Fare healthy products for free!
Jack Murphy, chief executive officer of Earth Fare, is excited about joining the Chattanooga community. He says, "Get on the health journey with us – live longer and feel better." He adds, "Changing lives for the better is important to Earth Fare."
Earth Fare has a food philosophy that prohibits items with high fructose corn syrup, hydrogenated or partially hydrogenated oils (trans fats) and sweeteners - all of which have been linked to health issues like childhood obesity. In addition to the above, Earth Fare has banned all items containing antibiotics, synthetic growth hormones, artificial colors, flavors and fragrances, preservatives and bleached or bromated flour.
About Earth Fare:
Earth Fare, founded in 1975, is an Asheville, North Carolina-based natural foods grocer. Since inception, it has grown into one of the largest natural foods retailer in the country. Earth Fare's strict ingredient philosophy has earned them a loyal following. Today, Earth Fare continues to lead the healthy grocery movement, providing the best tasting local, natural and organic foods available.
For media tours, press kits or more information about Earth Fare, contact Dorothy Carlow.
Contact: Dorothy Carlow
dorothy.carlow@earthfare.com
Earth Fare, Inc.
828-281-4800 ext.169