E-Geniuses Computer Repair Services Coming to Burbank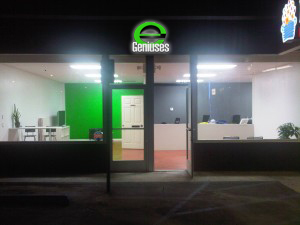 E-Geniuses
is continuing its steady growth and has opened a new location in the "Media Capital of the World", Burbank, California. They're currently in a soft launch phase and are making preparations for their official grand opening in December of 2009. Although the main office has moved to its new home on the corner of Burbank Boulevard and Florence Avenue, they still maintain an off-hours drop-off and pick-up location in Downtown Los Angeles and will continue to serve all of Southern California with their on-site computer repair technicians. During this transition, E-Geniuses is continuing to operate fully, both on-site and at the Burbank storefront.
Moving from a strictly office location in the heart of Downtown
Los Angeles
to a full blown storefront location has brought many perks to current and future E-Geniuses clients. The newest
Burbank computer repair storefront
is situated in a small shopping center that is anchored by E-Geniuses' neighbor, Andre's Cafe. While they wait for their computer to be serviced, clients can grab a bite to eat at the family owned and operated cafe that serves affordable American and Thai cuisine until 3 PM everyday. Additional highlights are a private and free parking lot, a comfortable and technologically equipped media waiting room with WiFi access and refreshments.
The expanded location will also serve to hold seminars and workshops, held by E-Geniuses owner,
Joey Mariano
. Topics will range from computers, new technology, and training sessions to website development and design for small businesses. Mariano, who grew up in Burbank, felt that relocating the central headquarters of his company was a natural move. "I grew up in Burbank and I have always admired the city and its traditional way of life. Burbank has a great community and this is my way of giving back. With E-Geniuses, I want to provide the residents not only
computer repair in Burbank
but additional services that will fulfill all of their technological needs. I want to provide a different type of
computer service
that goes beyond just computer repair." Clients both new and old can continue to expect the same great customer service and quick turnaround times that they've become accustomed to from E-Geniuses.
With this new move, they'll also be providing local repair individuals with the opportunity to become part of the E-Geniuses team. As a team member, they'll be equipped with a personal workstation with an ample work area, fiber optic high-speed Internet and the use of all common area facilities such as the media waiting room. All of this is in addition to all of the added benefits of being part of the E-Geniuses team.
For more information, feel free to contact the office through their website at e-geniuses.com or by calling (877) My-Genius. Your newest stop for computer repair in Burbank is located at 2718 W. Burbank Boulevard, Burbank, California 91505. Proposed hours for the storefront will be 9 AM to 6 PM, Monday through Friday, 10 AM to 5 PM on Saturdays and by appointment on Sundays.