New Pet Safety Device Reduces Injuries From Pet Related Falls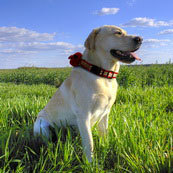 Lovemypets LLC is pleased to present a pet safety device that is certain to reduce the number of times people trip over their pets inside the home at night as well as in the immediate vicinity of the home outside. Use of an innovative new safety collar that features non-invasive glow in the dark technology that captures and reflects all of the available ambient light helps to make pets visible to owners in the dark and prevent trips and falls.
Managing member of Lovemypets LLC Mike Macatee reports, "LoveMyPets safety collar, harness and leash presents a high-quality-glow-in-the-dark material that is non toxic and non radioactive." The company uses glow pigments that last up to a full 12 hours and recharge in daylight combined with a polyester webbing that has one of the highest reflectivity ratings available. The
reflective dog collars
dry quickly when wet to keep your dog comfortable. Reinforced construction and a welded D-ring at the leash clip assure strong, yet light collars and leashes. "All collars, harnesses and leashes are fray and fade-resistant that wash well, wear well and don't fade out, " says Macatee.
In addition to protecting the human masters from injuries, these collars, harnesses, and leashes save the lives of thousands of dogs and cats along the roads each year by making them visible well before a vehicle is right on top of them. During power outages and emergencies, such as hurricanes or tornados, nothing can compare to these collars for making it easier to locate your pet and get him/her to safety.
In the past, these collars have only been available for medium to large dogs. Now Lovemypets LLC is introducing a smaller, lighter version that is suitable for use with small dogs or cats. They even have a breakaway collar with an optional bell for the cats.
Pet ownership is rising in America, partially because of the number of people reaching older ages. For the elderly, a dog or cat can be a lifesaver and a best friend. Yet the rate of injuries to older people when they fall is much higher than for younger individuals. This makes having safety devices like the glow in the dark collar on the pets essential to preventing such injuries.
The Lovemypets
glow in the dark dog collar
and harnesses will be available at local pet shops and online at
http://www.Lovemypetsgps.Com
at a suggested retail price of 19.95 USD for the collar and 19.95 USD for the harness.
Lovemypets LLC is a limited liability company based in Louisville, KY. The company is best known for its innovative Lovemypets
GPS Dog collar
and web based tracking and recovery system. The GPS collars combine GPS and cellular technology to locate your pet inside or out. They also make use of the highly reflective materials used in the glow in the dark collars to make pets visible in the dark. To order any of these products, visit them on the web at
http://www.Lovemypetsgps.Com
or call 1-888-LUV-R-PET (1-888-588-7738). For answers to any further questions, contact Mary Ann McNutt at 941-468-6643 or e-mail
maryann@lovemypetgps.Com
.