Jostens' Yearbook Avenue® receives IMA Outstanding Achievement Award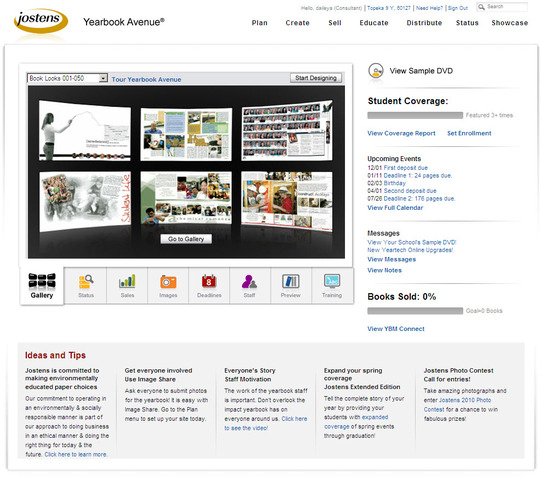 MINNEAPOLIS – November 12, 2009 – Jostens' Yearbook Avenue®, an industry-leading yearbook creation website for schools, has received the Outstanding Achievement Award by the Interactive Media Awards (IMA). The Interactive Media Awards recognize excellence in website design, content, feature functionality, usability and standards compliance. Yearbook Avenue demonstrated high standards in all five areas, earning Jostens recognition as a premiere choice for yearbook creation in the school market
Yearbook Avenue serves as the "one-stop" website for school yearbook advisers and student staffs, providing tools to design their yearbook and manage the end-to-end publishing and marketing process. The technology team at Jostens worked closely with advisers and students to architect an online experience that is intuitive and easy to learn. At the same time, the tools within Yearbook Avenue provide creative flexibility associated with professional design applications.
"Receiving the IMA Outstanding Achievement Award is an honor and a reflection of our strong relationships with yearbook staffs," said Eric Loring, eBusiness vice president, Jostens. "The experience and knowledge we gain through our work with schools keeps us inventing new ways to help people share their stories and capture memories for a lifetime."
Yearbook Avenue helps staffs create dynamic yearbooks filled with the diverse memories of the school year. Staffs use Yearbook Avenue to collect and catalog images, engage the broader school community to submit content, and track yearbook coverage of students and groups to ensure an inclusive yearbook. Tools even allow yearbook staffs to offer the yearbook for sale online.
Students who are a part of their school's yearbook staff gain dozens of real-life skills, while creating an opportunity for everyone in the school community to effortlessly capture the story of their school year. Additional information about Jostens and Yearbook Avenue is available at Jostens.com.
About Jostens
Minneapolis-based Jostens is a provider of products, programs and services that help people celebrate important moments, recognize achievements and build affiliation. The Company's products include school yearbooks and other memory book products, scholastic products such as class rings and graduation products, and products for athletic champions and their fans. Jostens is a subsidiary of Visant Corporation, a marketing and publishing services enterprise servicing the school affinity, direct marketing, fragrance and cosmetics sampling and educational and trade publishing segments.
Contact information:
Rich Stoebe 952-830-3250
richard.stoebe@jostens.com