Storm Security Grounding Bars Deter Copper Theft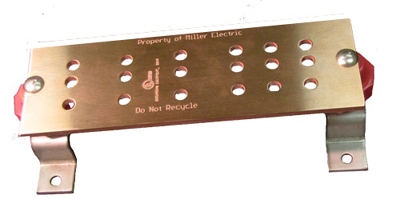 As the value of copper increases daily, hardly a week goes by without a news story about copper being stolen from a construction site or electrical substation. To assist customers in curbing the increasing cost of copper theft, Storm Copper Components, Co. now offers a three-pronged solution as an affordable and practical means to curb ground bar theft, available at their
online electrical grounding store, StormGrounding.com
.
Storm's Security Grounding Bar Kits are used to prevent theft of copper in cell towers, telecom central offices, and other indoor and outdoor installations. Security Kits include one .25" thick grounding bar made of high-quality, solid, cold-drawn copper (110 Electrolytic Tough-Pitch). Two standoff insulators, two mounting brackets and stainless spring-lock washers are also included, but it's the special Truss Spanner Security Bolts and the #14 Truss Bolt drill bit that are the heart of this system. These security bolts are engineered with a very low profile that makes it impossible to remove them with a pair of pliers or any clamping tool.
Storm's Security Grounding Bar Kits
also include a Truss Bolt drill bit to install or remove the security bolts quickly and easily. Without the drill bit thieves will spend a lot of time - not making any progress.
While this solution isn't 100% guaranteed, it can certainly increase the difficulty factor. Raising the "aggravation factor" is often the only deterrent necessary to divert thieves that want to strike quickly and get out, and those that choose to spend the time also extend the time for security personnel to respond to their intrusion.
The second option Storm offers for securing electrical copper is camouflage. We're not talking about the traditional concept of brown and green colors painted in irregular shapes to simulate bushes and trees; but this sort of camouflage is color based. Storm offers
Tin-Plated Grounding Bars
that add an extra layer of security and can be a better choice for outdoors or other harsh environments. In addition to disguising the copper color that attracts recycling thieves, tin electro-plating reduces the chance of corrosion interfering with the ground connection. Tin plating also makes copper less valuable to thieves because it no longer is classified as number 1 bright copper scrap when they sell it to a recycler.
The third point in this three-pronged theft-deterrent approach is stamping. Storm Copper can stamp a company name, logo, phone number, or a "Do Not Recycle" message into each ground bar. Bars that get stolen despite the ownership stamp continue to serve by increasing the potential for recyclers to report the theft.
Storm Copper Components Co
. specializes in the manufacture of custom electronic components for the wireless, telecommunications, power and alternative energy markets, serving OEM's, electrical contractors and system installers for almost 20 years.
For more information, or to schedule an interview with Dan Kitts, please call Dave Krikorian at 423-506-4178 or email
dkrikorian@stormcopper.com
.
Email Storm Copper Components