ACOM Introduces Browser-based Dashboard for Point-Click Viewing/Routing of Fax and eMail Documents Directly from the IBM System i AS/400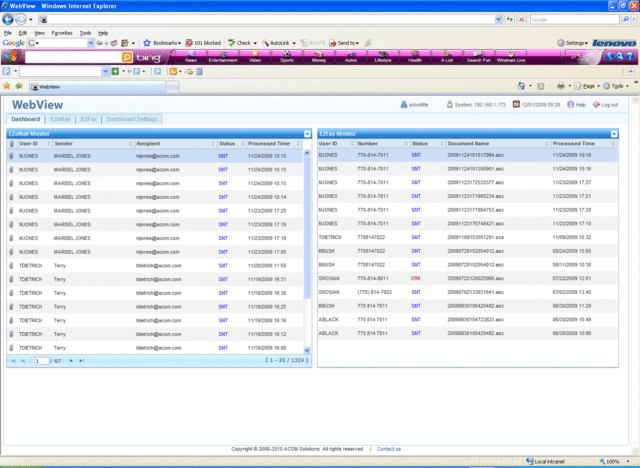 ATLANTA, Georgia, December 1, 2009 – ACOM Solutions, Inc. has introduced WebView, a browser-based dashboard that enables fast and easy access, allows viewing and managing fax and email messages sent from ACOM's
EZFax/400
and
EZeMail/400
, avoiding the need for green-screen interaction while also adding functionality, it was announced today by James R. Scott, senior vice president of sales and marketing.
"WebView provides users with a snapshot of pending and processed
AS/400 email and fax
message traffic," Scott said. "From the respective logs, they can confirm that documents have actually been sent; redirect them in one format, such as email, to the other; and reroute them along with attachments right from the dashboard. It's intuitive, effortless and has flexibility that just isn't available on the green screen, such as point-and-click operation, the ability to view the sent documents, logs by various criteria, and more."
According to Scott, as much as 75 percent of corporate invoices and purchase orders are now being exchanged electronically, up from perhaps 25 percent as little as five years ago. This trend is generating significant savings and advantages, but creating both challenges and opportunities for I.T. personnel, he said.
"The positive side of this is that transactions are executed faster, cash flow is faster and operations are becoming more efficient. At the same time, there are more demands placed on the electronic processes associated with these activities. WebView responds to these challenges with a set of tools that streamline the interaction between the email/fax environments and the IBM environment."
WebView requires only a browser and web access. In a customer service application, for example, a service representative fielding a lost-invoice query can log into the appropriate URL, enter his/her System i username and password, pull up a message log (email or fax), select the document from the display filed, and resend it, redirect it or print it. Supportive documentation similarly can be sent as attachments or faxed copies right from the document log. A hot-key button can also be created in a green screen emulator to launch a web browser automatically.
Scott noted that ACOM's existing customer base is an extremely active market for WebView and that for new customers, it is being sold as a virtually indispensable accessory to the company's email and fax modules. It is priced at $1,495.00 and downloadable from the ACOM website for installation.
For more information, call 800-603-6768 and request to speak to your Regional Manager or email
info400@acom.com
About ACOM Solutions, Inc.
For over 26 years, ACOM has been automating document and payment processes for more than 4,000 organizations, across all industries. Developing solutions that are best suited for tactical deployments in the accounting/financial departments of mid-size organizations, ACOM's solutions integrate with any financial/ERP system to extend their capabilities to dramatically improve an organization's efficiency by automating their previously manual, paper-based processes, and significantly decrease an organization's costs. For more information, call 800-603-6768, email
info400@acom.com
, or visit
http://www.acom.com
For more information about partner opportunities, call 800-347-3638 ext. 4306, email
partnerinfo@acom.com
, or visit
http://www.acom.com/channels
Email ACOM Solutions, Inc.