PIEDMONTESE BEEF FEATURED AT FOOD & WINE CLASSIC IN ASPEN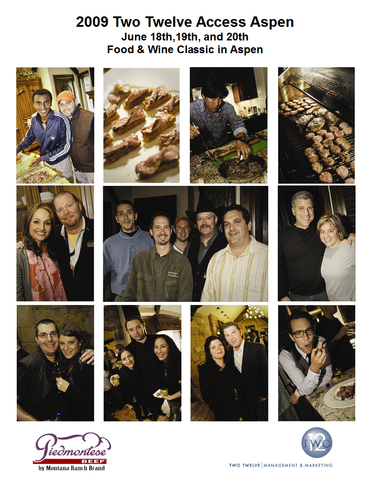 ASPEN, Colo. – Thousands of the greatest culinary minds descended upon Aspen, Colo., for the world's premier epicurean event known as the FOOD & WINE Classic, a premier three-day event during which world-renowned chefs and the culinary elite share trade secrets. Among the topics discussed at this year's Classic was the industry's trend towards natural sustainable products that can be sourced verified. One of those products was featured at the exclusive invitation only party held by Two Twelve Access and Food & Wine Magazine. Piedmontese Beef from Montana Ranch Brand was chosen to be served to the top celebrity chefs and industry leaders all three nights at the TWO TWELVE ACCESS ASPEN event.
The Fifth Anniversary of Access Aspen was located in a private mountainside mansion just blocks from The Grand Tasting Pavilion. Each night, Two Twelve Access Aspen hosted the best and the brightest of the hospitality industry. Guests had the pleasure of dining on Montana Ranch Brand's natural and exotic meats throughout the course of the weekend.
During Thursday night of Access Aspen, servers passed sliced certified Piedmontese beef striploin with charred tomatillo relish on a cornbread crouton, as well as Piedmontese beef sliders with aged white cheddar and caramelized onions on mini potato rolls. On Friday evening guests enjoyed grilled certified Piedmontese beef ribeye on ficelle toast with peppercorn hollandaise sauce. Montana Ranch provided Saturday's
afternoon Milagro Siesta with skirt steak for their delectable taco station. That final evening of Access, Montana Ranch pulled out all the stops serving certified Piedmontese beef tartare on brioche toast with a quail egg!
As in the past, this year Two Twelve Access Aspen was the talk of the town and considered the best late night event during the Classic.
"It's an honor to be invited to participate in this event," said Ralph Peterson, President and CEO of Montana Ranch Brand. "We had to be referred by one of these celebrity chefs to even be considered to participate at this event. Our product is very unique in the fact that it produces a leaner cut of meat with exceptional tenderness and flavor. The chefs that have worked with our Piedmontese Beef love the fact that they can feature a healthier cut of meat on their menu that provides superior flavor profile."
There was a common disbelief among those that tasted Piedmontese Beef for the first time. The comments ranged from "it taste like what beef should taste like" to "that has to be dry aged prime." For those that are not familiar with the Piedmontese breed of cattle, the belief is that great tasting beef can only be found in an ultra fatty prime cut of meet that has been dry aged for extra tenderness. The guest at the Access Aspen event discovered that you can experience a truly superior tender cut of beef without the excessive fat found in a traditional cut of prime.
2009 Two Twelve Access Aspen – Notable Attendees
Each evening Two Twelve Access Aspen was visited by a mix of high profile talent in Aspen for the Classic, including chefs, culinary experts, wine experts, various trade experts and culinary media
personalities. Below is a comprehensive list of the notable talent in attendance. Two Twelve Access Aspen was attended by 200+ tastemakers and valued industry VIP's, maximizing exposure to Montana Ranch Brand.
BEST NEW CHEFS '09:
-Nate Appleman
-Vinny Dotolo
-Kelly English
-Mark Fuller
-Linton Hopkins
-Christopher Kostow
-Paul Liebrandt
-Barry Maiden
-Naomi Pomeroy
-John Shook
CHEFS:
-Jose Andres
-Mario Batali
-Richard Blais
-David Burke
-Cesare Casella
-David Chang
-Michael Chiarello
-Leah Cohen
-Tom Colicchio
-Giada De Laurentiis
-Traci Des Jardins
-Harold Dieterle
-Todd English
-Bobby Flay
-Alex Guarnaschelli
-Ilan Hall
-Melissa Harrison
-Stephanie Izard
-Paul Kahan
-Tim Love
CHEFS (cont):
-Dena Marino
-Jeff McInnis
-Danny Meyer
-Drew Nieporent
-Michel Nischan
-Allison Richman
-Hosea Rosenberg
-Marcus Samuelsson
-Nancy Silverton
-Michael Symon
-Jonathan Waxman
-Ming Tsai
-Fabio Viviani
-Jonathan Waxman
WINE EXPERTS:
-Joe Bastianich
-Robert Bohr
-Brian Duncan
-Anthony Giglio
-David Lynch
-Joshua Wesson
PERSONALITIES/MEDIA/MISC:
-Sissy Biggers – media personality
-Jason Binn – media personality
-Kate Krader – media personality
-Gail Simmons – culinary personality
-Laura Werlin — cheese expert
MIXOLOGISTS:
-Gabriel Orta
-Gaston Martinez
-Charlotte Voisey
-Elad Zvi
ABOUT PIEDMONTESE BEEF by Montana Ranch Brand
Montana Ranch Brand is proud to offer the world's premier natural* beef - Certified Piedmontese Beef. The Piedmontese breed of cattle originated in the foothills of Italy and its unique beef has been a traditional favorite in authentic Italian kitchens for many generations.
Today, we have hardworking family ranchers who are raising this delicious, wholesome beef here in the United States. Montana Ranch Brand is committed to maintaining the integrity, quality and superior characteristics of this breed by defining and enforcing strict ranching standards from birth to harvest. Naturally having less fat and cholesterol than traditional beef, our Certified Piedmontese Beef meets the demands of the health-conscious consumer while delivering an exquisite, world-class taste and tenderness with every cut.
Montana Ranch Brand™ Certified Piedmontese Beef is nature's perfect combination of nutrition and taste. It's tender, juicy, full-flavored beef with less fat and cholesterol than traditional beef. Our Ranchers raise their animals the way nature intended - on open rangelands where they enjoy peaceful surroundings and the finest resources nature has to offer.
To maintain a superior level of wholesomeness, their ranching standards include:
- Raised without the use of antibiotics – ever!
- Raised without the use of added growth hormones or steroids – ever!
- Raised only on vegetarian feed - no animal by-products – ever!
- Source verified to working family ranches for traceability – always!
With nothing artificial and minimal processing, you can rest assured that all Montana Ranch Brand™ meats are tender, juicy, and naturally good for you and your family.
To learn more visit:
www.MontanaRanchBrand.com
Email Montana Ranch Brand