PIEDMONTESE BEEF IS THE STAR AT CELEBRITY CHEFS DINNER IN LA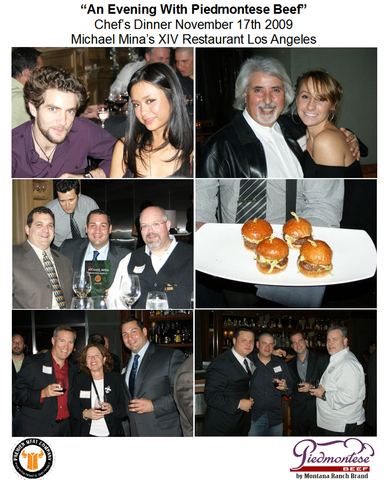 Los Angeles, CA. December 4, 2009 – Southern California is known for being on the cutting edge of trends and that especially rings true when it comes to the culinary landscape. Several of the world's most celebrated restaurateurs and celebrity chefs have set up shop in Southern California to introduce diners to a variety of flavors and natural ingredients that they may have never tried before. One key ingredient that is finding its way onto menus and receiving a lot of buzz in this market is Certified Piedmontese Beef. This elite Italian breed is known for producing most tender beef with less fat and cholesterol then other breeds of cattle.
The region's top celebrity chefs and industry leaders came together to experience "An Evening With Piedmontese Beef" at Michael Mina's XIV Restaurant located in the culinary heart of Los Angeles. This was the first event of its kind where the trend setters of the food world were treated to eight amazing courses that featured Piedmontese Beef paired beautifully with wines from Rhema Wines. The evening started with appetizers of Piedmontese Beef Sliders served on the deck with a rich Zinfandel blend from Napa. The star studded gathering then moved into the elegant dining area of XIV Restaurant to be wowed by seven tasting courses crafted by renowned Executive Chef Steven Fretz.
While there were several celebrity chefs in attendance, the real star of the evening was the food. A standout was the melt in your mouth Piedmontese Beef Carpaccio with heart of romaine, cherry tomatoes, horseradish and black pepper. The Tataki of Piedmontese Skirt Steak with Moroccan spices vegetables left attendees commenting of how unbelievably tender the beef was. It was a toss up for the favorite course of the evening between the perfectly prepared Piedmontese Filet Mignon and the amazing Piedmontese Rib Eye Cap with figs, arugula, horseradish foam and hazelnuts.
Michael Mina's XIV and Executive Chef Fretz pulled out all the stops in showcasing the attributes of this remarkable beef. Those attending this event and experiencing Piedmontese Beef for the first time were amazed that a lean beef that is lower in fat and cholesterol could produce such exceptional tenderness, flavor and plate performance. It's no surprise to learn that many of the chefs in attendance have decided to feature Certified Piedmontese Beef on the menu at their restaurants following this event.
An Evening With Piedmontese Beef at XIV LA – Notable Attendees
This event was attended by a mix of high profile talent from Southern CA and Las Vegas, including chefs, culinary experts, wine experts, various trade experts and culinary media personalities. Below is a list of the notable talent in attendance.
CELEBRITY CHEFS & INDUSTRY PERSONALITIES
Joe Anguinao
Alfonso Arechiga
Arash Azarbarzin
Notuff Bershau
Tina Bouchon
Chris Buffin
Lance Corralez
Jorge Chicas
Bryan Dillon
Celestino Drago
Eric Ernest
Steven Fretz
Suzanne Goin
Robert Graham
Larry Greenwood
Ian Gresik
Ilan Hall
Kevin Issacson
Victor Jimenez
Casey Kinney
Joseph Kudrak
Mark Kropczynski
Chris Kurth
Raphael Lunnetta
Jason Maitland
Michael Mina
Rick Moonen
Michael Philippi
Debora Philippi
Stefan Richter
Issac Rivera
Chef Rodolfo
Jon Shook
Carolynn Spence
Boe Trumbell
Jon Webber
ABOUT PIEDMONTESE BEEF by Montana Ranch Brand
Montana Ranch Brand is proud to offer the world's premier natural* beef - Certified Piedmontese Beef. The Piedmontese breed of cattle originated in the foothills of Italy and its unique beef has been a traditional favorite in authentic Italian kitchens for many generations.
Today, we have hardworking family ranchers who are raising this delicious, wholesome beef here in the United States. Montana Ranch Brand is committed to maintaining the integrity, quality and superior characteristics of this breed by defining and enforcing strict ranching standards from birth to harvest. Naturally having less fat and cholesterol than traditional beef, our Certified Piedmontese Beef meets the demands of the health-conscious consumer while delivering an exquisite, world-class taste and tenderness with every cut.
Montana Ranch Brand™ Certified Piedmontese Beef is nature's perfect combination of nutrition and taste. It is tender, juicy, full-flavored beef with less fat and cholesterol than traditional beef. Our Ranchers raise their animals the way nature intended - on open rangelands where they enjoy peaceful surroundings and the finest resources nature has to offer.
To maintain a superior level of wholesomeness, their ranching standards include:
• Raised without the use of antibiotics – ever!
• Raised without the use of added growth hormones or steroids – ever!
• Raised only on vegetarian feed - no animal by-products – ever!
• Source verified to working family ranches for traceability – always!
With nothing artificial and minimal processing, you can rest assured that all Montana Ranch Brand™ meats are tender, juicy, and naturally good for you and your family.
Email Montana Ranch Brand