Wix.com Introduces a New Array of Features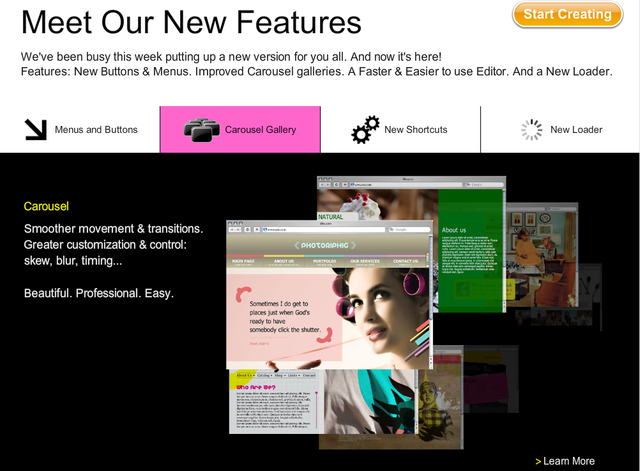 Wix.com, an online provider of cutting edge technology that allows for the creation of free websites using unique, professionally designed free website templates and an intuitive yet sophisticated
free website
builder is introducing a host of new features, including a collection of new buttons, menu types, keyboard shortcuts and gallery settings.
As the year approaches its close, executives at Wix.com are bustling in an effort to introduce many new improvements which the company has been working on. Amongst these new improvements are several technological upgrades that make creating a
Flash website
even easier than before. This includes a host of new keyboard shortcuts specific to the builder's environment, such as: Ctrl + G which allows you to group or ungroup objects; Ctrl + [ that sends items to the back of the web page and Ctrl + > that moves items forward.
Other improvements include new customization possibilities in the existing menus as well as new types of menus in entirely new skins and designs. You can now use any font you want for your button's texts, change font and background colors easily, create different colors for different positions and switch from horizontal to vertical menus with a simple click.
In addition, a new thumbnail menu has been introduced that is particularly useful when you
create a free website
with galleries. Instead of using a menu that lists the number or name of your picture slides, the menu will appear with little thumbnail images representing the actual picture. This innovation is particularly useful for photography websites, a popular niche at wix.com as well as other website types with a strong visual orientation.
Wix.com, which recently surpassed the 2 million user mark has been growing steadily and speedily for the past couple years. Wix.com has been thriving and growing by offering a practical, economical and attractive solution for budding business and companies of all sizes. By providing both free web designs and a
free website
builder, Wix is offering businesses all the tools they need to promote themselves online effectively. This opportunity has not been lost on the general public, particularly in these challenging times, and thousands of new free Flash websites are being created through the Wix website every day.
Wix was established in 2005 and has its headquarters in NY and offices in Tel-Aviv. It is backed by Mangrove Capital Partners and Bessemer Venture Partners. More information on can be found at
www.wix.com.