Anthro Corporation presents the new Carl's Table, Model ct1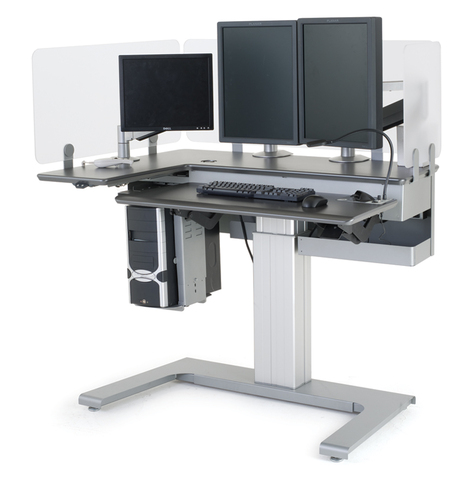 Anthro Corporation, the Portland, Oregon manufacturer of
ergonomic radiology furniture
, announces a new member of the
Carl's Table® Family
, ct1, available Fall 2009. ct1 is a complete professional workstation designed specifically for small radiology reading rooms, teleradiology, and for radiologists who work from home, uniquely meeting their need to easily change positions throughout the day to remain productive. The ct1 is smaller than the Carl's Table CT03 and CT08 but offers many of the same features including electrical height adjustment and comfort controls for lighting and air circulation.
The innovative ct1 is an ergonomic height adjustable work environment designed for a single user. It has motorized height movement combined with an independently adjustable keyboard surface to provide a height range of 21.5" – 54.5". The keyboard surface also has a 15 degree tilt adjustment that facilitates individual work positions, sitting or standing. ct1's L-shaped monitor surface remains level when the keyboard surface is tilted and it supports up to 4 monitor arms. The table supports up to 300 lbs.
Air circulation and task lighting are integrated into the work surface to achieve ultimate comfort and convenience. The flexible LED task light can be positioned and manually dimmed for appropriate lighting. A choice of CPU holders attaches under the table for integration of technology, and they incorporate a safety system to protect the user and belongings when the table is in motion. Back and side panels can be added for privacy.
The shelves on
Carl's Table ct1
are made out of 1" MDF board and are membrane pressed with a horizontal grade 3D laminate; the metal is steel, and is a powder coated silver metallic color. A single heavy-duty telescoping electric column provides height adjustment. ct1 comes standard with one LED task light, one air circulation fan, one USB hug and 11 power outlets. Monitor support, CPU holder, and panels can be purchased as accessories. There is a 1 year warranty for Electrical/Mechanical and all other components have a 5 year warranty.
Anthro Corp.
was founded in 1984. Anthro designs, manufactures, and markets furniture only for high tech equipment, and provides solutions for the engineering, business, medical, government, and education markets.