Designer Wallpaper Leader Announces New Collections from Barbara Hulanicki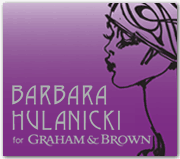 Friday, December 20, 2009 – Wallcovering and
wall art
leader Graham & Brown has unveiled two new collections of wall art and designer wallpaper created by renowned fashion designer and Biba founder Barbara Hulanicki. These collections will be sold through the company's website, Graham & Brown, marking the next great line in
designer wallpaper
fashion.
The new Wall Art Canvas Collection features signature illustrations across a range of five bright color-wash printed canvases. These amazingly crafted and poetic creations are born out of innovative motifs blended harmoniously with contrasting colors that truly reflect the signature style of Hulanicki. The new canvases are:
Funk Shoe – A killer stiletto heel illustration on a printed canvas
Woodstock – Hulanicki's classic style is perfectly emulated through this headscarf design. Flock print on canvas
Woodstock Trio – Three headscarf designs in bright colors. Printed canvas with center headscarf textured printed
Fedora – Ultra bright Fedora illustration with Flock print on canvas
Fedora Quartet – Make a bold statement with these four fedora illustrations on printed canvas
The Hulanicki Wall Art Canvas Collection can be found on Barbara Hulanicki's
designer wall art
page at Graham & Brown.
Graham & Brown is also delighted to announce the launch of its new Flock wallcovering collection designed by Barbara Hulanicki for Graham & Brown. The collection marks the second wallpaper collaboration between Graham & Brown and Hulanicki. It features 12 striking colorways across five designs that include fashion and illustration-inspired twists alongside bold graphic patterns in vibrant, contrasting colors and textures.
"I jumped at the opportunity to work with Graham & Brown on another designer wallpaper collection. They are the best and most fun to work with. This time, however, I wanted to give traditional flock a distinct modern twist," said Hulanicki. "The old Victorian flocked wallpaper has a fond memory for me from Biba days when wallpaper was a very important product in our household department. Influenced by nostalgia and my home in South Florida, I have created a range which encapsulates humor, style and versatility."
"We really wanted this collection to reflect all facets of Hulanicki's personality and aspects of her fascinating career, particularly as she puts so much of herself into each and every design" said Mark Radford, Design and Marketing Director.
The Flock wallpaper collection includes:
Skulls – This magnificent skulls design reflects Hulanicki's mischievous side. She says, "I love the almost shock element that you don't instantly see the skull design unless you really look at the paper." She jokes, "This wallpaper would be particularly good in the guest loo!"
Ophelia – A soft floral trail inspired by Hulanicki's interior design success in regenerating Miami's Art Deco district. She says, "I love creating areas of space and harmony and with this soothing, sophisticated floral I tried to capture a very restful print, something that you would love in your bedroom or any area of rest and relaxation." Graham & Brown loved Ophelia so much, it's produced it in seven beautiful colorways.
Shoes – A collection celebrating Hulanicki's career wouldn't be complete without featuring a fashion element. What better than shoes… every woman's favorite indulgence! As Hulanicki puts it, "Shoes are the ultimate fashion accessory, instantly making you feel glamorous and sexy. Every girl loves shoes – this one is for the shoe ladies."
Baroque – This design epitomizes Hulanicki's signature design style and her Art Deco influences but with a modern twist. Hulanicki explains, "With this design we used a really rich color palette to create a Victorian-inspired geometric which is a good contrast with mid-century modern."
Antoinette – Reflects on Hulanicki's love of drawing and her early career in fashion illustration; the haughty beauty reflected from ornate frames fires the imagination, capturing a young Marie Antoinette about to embark on a life of scandal and intrigue.
About:
Graham & Brown is a widely acclaimed wall decoration company involved in offering creative solutions for decorating homes, offices, restaurants, hotels, etc. Headquartered in Blackburn England, it has its offices in countries all over the world, from the US, Canada, Russia and Holland to France, Poland and China. To learn more about Graham & Brown and its services, visit
http://www.grahambrown.com/