Wix Introduces New 'How To' Category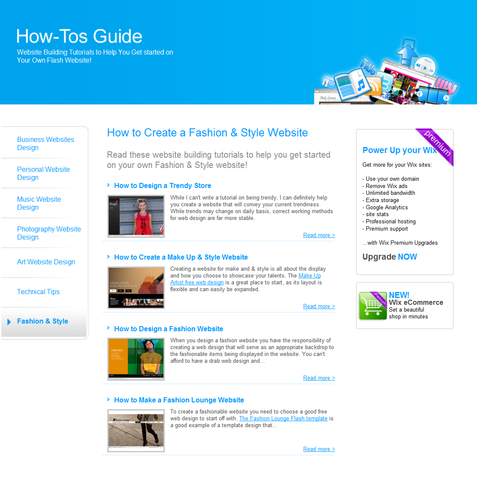 Wix.com is a new innovative website building service that provides free Flash templates, an intuitive yet powerful
free website
builder and an extensive learning center. A short while ago the website grew a new appendage, a How To tutorial center which is now growing to include a new Fashion & Style website building section.
Wix.com is bent on providing an alternative to expensive website designers and webmasters. The idea behind the burgeoning start-up is that anyone, anywhere, can
create a free website
themselves, easily and while taking advantage of sophisticated Flash designs. This is why their website builder utilizes an intuitive and simple drag and drop interface that can be easily understood by the general public. In addition, Wix.com has launched a comprehensive learning center, with articles on subjects ranging from
free web design
to search engine optimization. As part of the company's efforts to bring website design to the masses, wix.com has also introduced a How To tutorial center, easily accessible from the Wix homepage and other areas around the website.
The How To center includes dozens of articles with grassroots tips and advice on how to create a website using Wix's Flash templates and website builder. The tutorials range from general web design tips to the specific guidelines concerning the creation of a
Flash website
using the wix.com editor.
Since the wix.com template galleries have been growing and expanding, the
How to tutorials
have been growing with them. Recently a new category has been added to the How To tutorial website covering the design of Fashion & Style websites. This is in response to dozens of new Flash templates specifically designed to target this market. Other How To category types include 'business website design', 'personal website design', 'photography website design' and more.
Wix CEO Avishai Abrahami further explained: "We see it as our personal goal to bring the art of web design to each and every person who wants or needs it. By offering the public these easy to learn tools and providing them with extensive tutorials and a comprehensive learning center ".
Wix was established in 2005 and has its headquarters in NY and offices in Tel-Aviv. It is backed by Mangrove Capital Partners and Bessemer Venture Partners. More information on can be found at
www.wix.com