Eco-Friendly Christmas Tree Skirts and a Stocking in the White House Residence for the Obama Family's First Holiday Season in Washington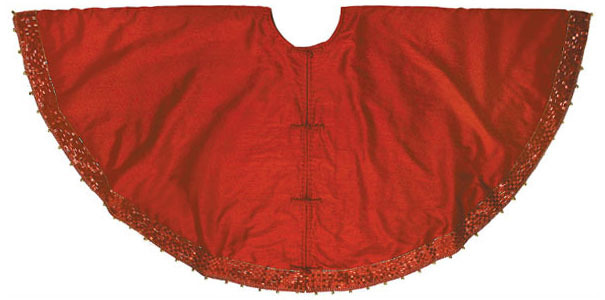 New York, NY-Eco-friendly tree skirts and stockings by Arcadia Home (
http://www.arcadiahomeinc.com/index.php
) grace the Obama family's private living quarters in the White House residence this holiday season. Arcadia Home created the eco-friendly designs for the Obama family's first Christmas in the White House. Three Arcadia Home Christmas tree skirts and a stocking for Bo made of sustainable wool felt will add a decorative touch to the holiday happenings in the Obama's home at the White House. (
http://www.arcadiahomeinc.com/whitehouse.php
)
"I am thrilled to have the opportunity to share our designs with the First Family and be part of the memories they make during this very special time in their lives. No matter what your politics I think we can all agree what a wonderful family they are" says Dawn Kikel, President of Arcadia Home and a self- professed fan of the Obama family (
http://www.arcadiahomeinc.com/index.php
)
One of the tree skirt designs that the first family will be enjoying this Christmas season is an oversized but simple and elegant hand beaded silk Christmas tree skirt adorned with a recycled glass bead border and jingle bells. Made of the natural material, silk,and adorned with eco-friendly beading, it is an earth-friendly heirloom for a family dedicated to a healthy environment and home.
In addition to the 3 Christmas tree skirts for the family, Arcadia Home also designed the Christmas stocking for Bo- the first Dog and the newest member of the Obama family for his first Christmas in the White House.
"We had the pleasure of creating the stocking for the First Family's newest member, an adorable Portuguese Water Dog named Bo. We are certain that Bo will discover lots of yummy treats in his stocking this Christmas!" notes Dawn Kikel, President and Founder of Arcadia Home
The earth friendly Christmas stocking for Bo from Arcadia Home is made of 100% sustainable hand felted wool. Hand appliquéd with felted paw prints, it is a simple and charming addition to the White House residence commemorating Bo's first holiday with his new family.
Another of the tree skirts in the White House this year is one of Arcadia Home's hand felted wool creations in a lush chocolate color with contrast green stitching. An eco-friendly tree skirt reflecting the Obama Family's dedication to environmentally friendly design and products with a fabric made from a renewable resource- wool.
About ARCADIA HOME:
Dawn Kikel's ARCADIA HOME (
http://www.arcadiahomeinc.com/index.php
) was founded in 2001.A woman owned home accessories company making unique handmade designs created by artisans. From the luxurious fabrics to the couture quality beading, it is the attention to detail and quality that makes Arcadia Home designs collectible for the eco-friendly design oriented customer. Taking a modern approach to classic styles of the past, Arcadia Home uses beautiful and enduring materials to produce heirlooms meant to be cherished from generation to generation.