New Blog Offers Small Business SEO Tips: Expert Offers Search Engine Optimization Tips for Small Businesses with DIY Mindset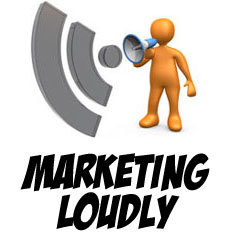 MarketingLoudly.com is the brain child of veteran online marketer Mike Gracen, who created the
small business SEO blog
to post search engine optimization, search engine marketing, social media and online marketing tips for small business owners looking to increase traffic to their websites.
"After reading the current small business online marketing blogs and websites for the last year or so, it became apparent to me that many of the topics - and the language - was directed at fellow online marketers. In other words, there really isn't much out there for the small business owner who wants to improve their website rankings, but isn't hip to the current jargon" states Gracen.
With a focus on usability and easy to incorporate strategies,
Marketing Loudly
aims to help small business owners who want to improve their search engine rankings, pay-per-click campaigns, social media reach and local search listings.
"It's so easy to become too close to the material - and the jargon - when you work with it everyday" continues Gracen, "but most small business owners don't understand how to increase their ROI by optimizing their OPF to increase their rankings on the SERPS - you might as well be speaking Latin."
"Small business owners need straight to the point articles that outline what the issue is, how to solve it, and how solving it will help their bottom line."
Gracen goes on to state that Marketing Loudly not only posts original content, but also comments on already posted content within the unique perspective of the small business owner, allowing it to offer a quick read on the current online marketing topics of the day.
As well, the site regularly reviews online marketing tools – many of them free of charge – and highlights why small business owners will benefit from using them.
"It's simple really" states Gracen, "I want to provide small business owners with the means to navigate online marketing and SEO in terms that they can read and digest quickly, so that they can act on that information just as quickly."
MarketingLoudly.com launched in September of 2009 and is updated several times per week with quick yet informative SEO, SEM and online marketing articles for small business owners.