Wix Freshens Up for the New Year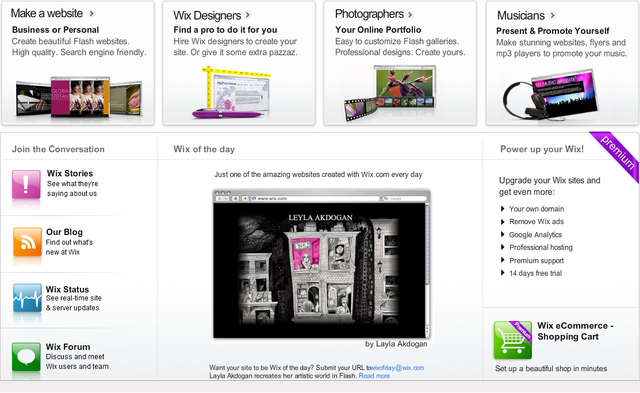 Wix.com, a burgeoning new website development company is welcoming the New Year with a facelift and some added value for its customers. Wix has recently surpassed the 2.6 million user landmark and is introducing a fresh new homepage and a brand new statistics feature for users that have chosen to create a
Flash website
using the Wix builder.
Recently Wix.com surpassed the 2.6 million user landmark, celebrating this event and the New Year with a new facelift – a brand new homepage with several new features and enhanced usability. The new homepage, aside from its improved design includes direct links to many of Wix's most popular features, and now also to a new service called 'Wix Status' that provides Wix users with information on a number of topics.
The Status page consolidates a lot of information that is useful for Wix users such as known bugs, new features, future releases (what's coming) and a Wix wish-list. This is the page to go to if you want to
create a free website
or you already are a Wix user and something isn't working right. Here you'll either find reference to a problem that is already known and being dealt with or you'll have the option of reporting this bug and/or contacting support. This shortens the route to an answer significantly for Wix users, who can now reach all this information in just 2 clicks.
Other features on this page include the Wish List which allows Wix users to suggest and vote for new features on Wix. This has been a very handy tool for Wix executives as they develop their product "especially tailored to our user's needs and demands" as co-CEO Allon Bloch explains.
In addition, future releases will be published in this page under the title "coming soon". Here you can find out what new features are already undergoing development and will soon be introduced to the Wix for the benefit of
free website
creators. Amongst the exciting new developments currently being talked about is a long awaited HTML component that will allow users to integrate code from a 3rd party into their own
free web design
projects and provide a much greater selection and more control over their websites.
Wix was established in 2005 and has its headquarters in NY and offices in Tel-Aviv. It is backed by Mangrove Capital Partners and Bessemer Venture Partners. More information on can be found at
www.wix.com
.