Steelthorn Software releases tournament poker app PokerZig for the BlackBerry platform.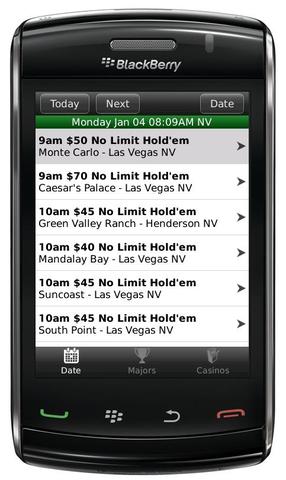 Steelthorn Software™ and ZigApps™ announced today the release of a brand new BlackBerry® application, PokerZig™. PokerZig puts tournament poker schedules, buy-ins, major events, and casino contact information in the palm of your hand. Currently, PokerZig provides information on Las Vegas and California tournaments with more cities to be added in the near future.
Jeff Mixon, owner and CEO of Steelthorn Software says, "PokerZig is a great addition to our BlackBerry application line up. We are always excited to bring innovative apps to the BlackBerry platform and PokerZig provides up-to-date information to the BlackBerry user that can't be found anywhere else."
PokerZig is a great value and convenience for anyone from the professional to amateur poker player. PokerZig is currently available from the BlackBerry App World and supports most BlackBerry models including the Curve, Bold, Tour, and Storm series BlackBerry devices.
ABOUT STEELTHORN SOFTWARE:
Steelthorn Software is a BlackBerry software development company that has created 9 unique BlackBerry applications and has nearly 2 million users. Their products include applications such as the popular QuickPull and edocrab apps. For more information, go to
www.steelthorn.com
.
Email Steelthorn Software