Karl Kleinbach Named to Head Marketing Services at ACOM Solutions, Inc.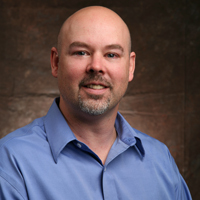 LONG BEACH, California, January 9, 2010 – Karl Kleinbach, architect and manager of the highly successful web-based marketing program conducted by ACOM Solutions, Inc, has been named manager of corporate marketing services, a new position, it was announced today by Senior Vice President James R. Scott.
Kleinbach will continue to direct online initiatives, while assuming responsibility for broader marketing activities associated with the company's core
document management
and
payment software
offerings,
chiropractic software
solutions developed and marketed by the ACOM Health division, and the growing channel reseller program. These include print and online advertising, sales support communications, trade show management, lead nurturing, digital design and public relations.
Kleinbach has been associated with ACOM since 2001 when he became a consultant to the company, focusing on interactive marketing. He joined the company as online marketing manager four years later, and has since guided the company's transition from a traditional marketing organization to one employing the Internet as its centerpiece.
"Karl's exploitation of the web has provided ACOM with a highly leveraged presence in the marketplace and a level of measurability that our earlier marketing programs just did not provide," Scott said. "In the process we have been able to improve our marketing ROI considerably, with online programs now yielding nearly two-thirds of our inquiries. Karl richly deserves this promotion and we look forward to his continuing impact on our corporate progress."
Kleinbach is a native of Boulder, Colorado, where he attended the University of Colorado. He transferred to Colorado State University, Fort Collins, majoring in marketing and graduating first in his class. Prior to his association with ACOM, he managed email communications at Pacific Sunwear as well as the company's online community. Earlier he was sales manager for an accounting software firm. He resides in Huntington Beach, California with his wife and children.
About ACOM Solutions, Inc.
For over 27 years, ACOM has been automating document and payment processes for more than 4,000 organizations, across all industries. Developing solutions that are best suited for tactical deployments in the accounting/financial departments of mid-size organizations, ACOM's solutions integrate with any financial/ERP system to extend their capabilities to dramatically improve an organization's efficiency by automating their previously manual, paper-based processes, and significantly decrease an organization's costs. For more information, call 800-699-5758, email
sales@acom.com
, or visit
http://www.acom.com
For more information about partner opportunities, call 800-347-3638 ext. 108, email
partnerinfo@acom.com
, or visit
http://www.acom.com/channels
Email ACOM Solutions, Inc.