Science News Goes Visual with "Grab More Science" Graph from LabGrab.com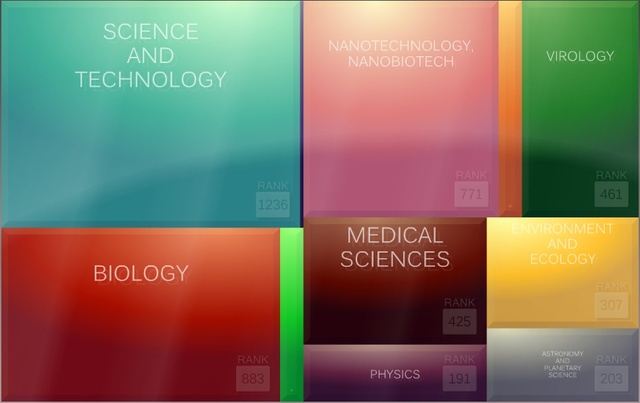 Portland, Oregon – Labgrab.com is announcing the release of a data visualization tool that graphs the current volume of science news by discipline. The colorful chart shows various sized boxes based on the volume of article headlines published by universities, journals, science news aggregators, and science blogs. Inspired by similar data visualization tools, this flash based application is the newest rich internet application (RIA) addition to hit the online science community. "We read a statistic that roughly 10,000 items of science news were published daily and thought it would be intriguing to animate that day after day" said Jed Herzog, lead developer on the project.
www.labgrab.com/boxgraph
The "Grab More Science" graph has successfully animated a collection of daily science news, although finding specific articles can be a challenge. "Our thinking is that great tools already exist for finding citations, keywords, and authors", Herzog adds "What we want to build is a personalized discovery tool for science professionals and enthusiasts". In order to create a comprehensive database of content, LabGrab.com asks users for input on relevant web sites, science blogs, RSS feeds from universities, and scientific journals.
http://www.labgrab.com/Grab-More-Science-Feedback
Launched in 2008, this is LabGrab.com's first application. The site currently is host to a variety of science news articles from a wide range of scientific disciplines - you can find anything from proteomics research to updates on the latest NASA project. Labgrab.com is a project of life science marketing and creative agency Outlier Solutions Inc. of Portland, Oregon.
Ben Friedle edits the industry news of LabGrab.com and is the active voice for the site. "After years of customers asking me for alternatives to marketing or advertising, I realized that industries could use these thought provoking tools to increase web exposure."
"We are excited about this launch and hope our talented designers and developers get to collaborate with other companies to make more tools like this." said Friedle. Outlier would like to work with other laboratory equipment and scientific companies to build tools like this for their target customers.
www.outliersolutions.com
About Labgrab.com
LabGrab.com strives to find the most interesting science news and nurture a community of thoughtful individuals collaborating on ever improving techniques and approaches to scientific research. LabGrab is also a resource for the laboratory industry, bridging information gaps and promoting their services and products in the most productive ways possible. The "Grab More Science" news graph was developed by Outlier Solutions Inc. of Portland, Oregon and combines the development work of Jed Herzog and Brad Washburn. Learn More at
www.labgrab.com