New York State Alternative Energy Milestone: Hartford Central School District to Unveil First Woodchip Gasification Plant in a Public School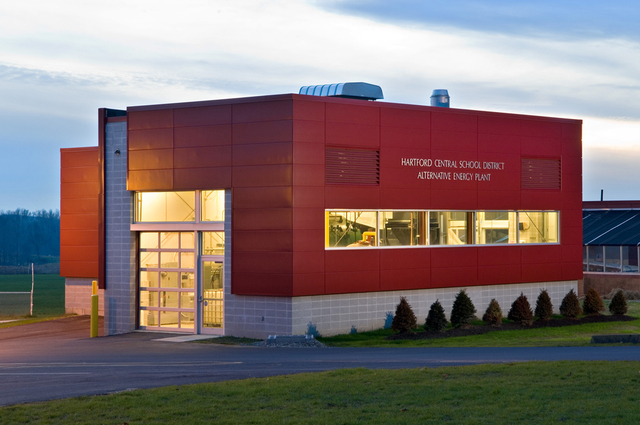 Hartford Central School District and CSArch Architecture|Construction Management announce a celebration to showcase the district's new Alternative Energy Plant, the first public school in New York State to implement wood chip gasification technology to heat district facilities. The event, "My School Runs Green: Alternative Energy in Action," is slated for January 20, 2010, from 1 – 3 PM, at Hartford Central School and will include presentations by key stakeholders including local and state school officials, politicians and project architects CSArch Architecture|Construction Management. A ribbon cutting, tours of the Alternative Energy Plant and a reception are also planned.
Honored guests and speakers will include:
- Betty Little, NY State Senator
- Roy J. McDonald, NY State Senator
- Tony Jordan, NY Assemblyman
-Carl Thurnau, Director of Facilities, NYS Education Department
- Rob Scholz, District Director, Office of Congressman Scott Murphy
- Thomas W. Abraham, Superintendent, Hartford Central School District
- Phillip Jessen, President, Hartford CSD Board of Education, Event Facilitator
- Randolph Collins, AIA President, CSArch Architecture|Construction Management
Alternative Energy Plant tours and presentations will explain:
- Facility Design, Operation & Maintenance. The Hartford Central School District will save up to 70% of fuel oil costs in a single heating season.
- Environmental Benefits. By burning wood chips purchased close to home instead of foreign fossil fuels, the district will reduce its carbon footprint and support the local economy. In addition, local farmers will use the system's byproduct – called potash – for fertilizer.
- Facility as Teaching Tool. The district will create hands-on curriculum that educates students about the environmental impact of renewable, alternative energy and motivates them to think in terms of solutions.
Albany-based
CSArch Architecture | Construction Management
designed the new 2,000 sq. ft. Alternative Energy Plant, which is located adjacent to the 84,330 sq. ft. K-12 school. The new building features expansive windows on three sides that will allow students and the community to visualize how the system works. Within the plant, wood chips travel by way of an auger from a fuel bunker into a gasifier where they are heated to extremely high temperatures, ignite and create gas. The gas is burned in a standard boiler to produce hot water which is distributed throughout the school's hot water heating system. The system can operate at part or full capacity depending on heating demand. The district estimates that the plant will burn 1,600 tons of locally sourced wood chips in its first year of operation.
The school district expects to generate long-term cost savings as a result of the alternative energy plant. Two years ago the district paid $150,000 for oil. Chips to provide the same heat would have cost $45,000. The Alternative Energy Plant's 12-ton steel boiler generates enough heat to serve the entire school as well as a technology building on the campus.
"Hartford Central School District has long wanted to find an alternative energy solution that would help us save money and reduce our carbon footprint. CSArch helped us identify the kind of alternative energy system that would best fit our needs. When we took this vision to our community, they backed the project 100 percent," says Thomas Abraham, Superintendent of Hartford Central School District. "We're extremely proud to be the first public school system in New York to embrace wood chip gasification for heat generation."
"One of the value-added aspects of this Alternative Energy Plant is that the use of renewable wood chips allows the district to source its energy needs from vendors located nearby its own community and reduce its reliance on foreign oil. This kind of shift in energy usage supports the local economy," says CSArch project manager Dan Langer. "We were thrilled to work with the district to implement a win-win scenario that we hope will serve as a model for other school districts to not only save money, but embrace solutions that benefit local economies, the environment and students."
CSArch
is a leader in the design and implementation of alternative energy solutions on a commercial scale including photovoltaic and thermal solar installations, geothermal heating and cooling systems, biomass gasification heating plants and ice storage cooling systems. Last year the firm led a team of architects, engineers and vendors in the design and implementation of an integrated solar thermal and high-efficiency wood-pellet boiler heating system for The W!ld Center in Tupper Lake, New York. The system was the first of its kind and size manufactured and installed in New York State.
With a staff of 86 and offices in Albany, Newburgh, Malone, Melville and New York City, CSArch is widely recognized as a leading architect in New York State. The firm provides a seamless approach to planning, architectural design, interior design, construction management and alternative energy solutions. The firm has a strong portfolio in the K-12, college and university, government, corporate and non-profit markets.
For more information about
CSArch Architecture | Construction Management
please contact Marquita Rhodes at Allegory Studios at
(518) 580-1987 ext. 102.