Hummingbird Feeder Reviews Catapult Sales of The Innovative Top-Fill Hummingbird Feeders with Push-Pour-Pull Technology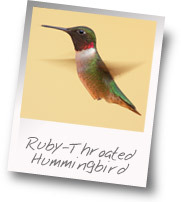 The innovative Top Fill Hummingbird Feeders with Push-Pour-Pull technology, first introduced in January 2009, are quickly becoming the top-selling hummingbird feeders in the Woodstream Perky-Pet® brand, thanks to the outstanding hummingbird feeder reviews they have received.
These easy-to-fill hummingbird feeders use a patent-pending sports bottle technology to make refilling, cleaning, and opening easier than ever. Hummingbird feeder reviews highlight how mess-free the Top Fill Hummingbird Feeders with Push-Pour-Pull technology are.
Most hummingbird feeder reviews include that traditional feeders are a mess to fill, clean and open because they must be filled from the bottom. The Top Fill hummingbird feeder reviews note that, unlike traditional hummingbird feeders, the Push-Pour-Pull technology makes opening and closing the feeder effortless. Simply push the feeding ports closed, pour the nectar, and pull the feeder up – it's ready to go!
There is no doubt, the Top Fill system makes these hummingbird feeders the easiest on the market to fill and clean, as mentioned in many of the hummingbird feeder reviews.
This innovative line of hummingbird feeders includes the 16-oz. Primrose and Magnolia and the 12-oz. Aster. These three models score highly in hummingbird feeder reviews. Hummingbird feeder reviews on the
Primose
,
Magnolia
, and
Aster
have contributed significantly to the success of these three models. The recommendations and high praise of these hummingbird feeder reviews have created an online buzz among hummingbird enthusiasts.
The
Perky-Pet® brand
brand, well-known for its functional, value-priced line of feeders. Its contemporary style continues to rank highly among hummingbird feeder reviews because of the variety of options available for the beginning hobbyist.
For more information on the Top Fill Hummingbird Feeders with Push-Pour-Pull technology receiving the rave hummingbird feeder reviews, visit their website at
http://www.birdfeeders.com/store/hummingbird-feeders/top-fill
About Woodstream Corporation
Woodstream Corporation is the wild bird feeder category leader that offers the broadest and deepest set of innovative, decorative, and quality products within the industry available at competitive prices. The Woodstream portfolio of wild bird brands includes Perky-Pet®, Birdscapes®, Garden Song® and Avant Garden™ to meet the needs of consumers nationwide.
Email Woodstream Corporation