FourFour Hooks Up with ArtistData, Delivers New Way for Bands to Optimize Their Official Website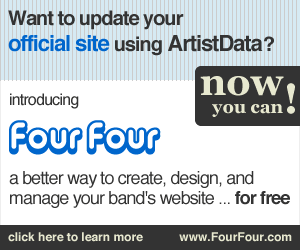 FourFour, a newly launched platform developed exclusively for bands and musicians to build better websites for free, announced today a partnership with ArtistData that provides musicians with an easier way to keep their official site in sync with Facebook, Twitter, MySpace, and other music-related sites.
Thousands of musicians have been using ArtistData to syndicate information across social networks and concert databases. Now, those musicians can use ArtistData to update their official site at the same time. Bands enter tour dates, news and blog posts into ArtistData and then, by running their site on FourFour, can have that information simultaneously published to their website. Bands can now update all of their sites in one place without having to enter the same information multiple times.
"I've run an indie label and worked with many artists over the years," said FourFour co-founder and CEO Steven Pennington. "Co-founder and CTO, Trevor Wencl, has been an independent musician for 20 years. We both know, all too well, the difficult task of keeping band information synchronized across the Internet. That's why this integration with ArtistData is an invaluable enhancement to our platform, one that greatly benefits all the bands managing their official sites on FourFour."
The integration with ArtistData follows a string of new features introduced by FourFour to improve a band's official site, including: the display of Twitter updates on an artist's homepage; automatic look-up of albums in the iTunes Store and the addition of iTunes buy links to their discography; and a new CSS Editor that lets bands take full control over every detail of their site's design.
Brenden Mulligan, ArtistData founder and CEO, adds, "We're thrilled to team up with FourFour and offer musicians an easier way to keep their website in sync with the rest of their online presence. They've built a great new platform and this is just the beginning of the work we'll be doing together."
FourFour has very quickly won over many musicians who've been looking for a better way to create and manage their official website, including master slide guitarist Roy Rogers, American folk icon Ramblin' Jack Elliott, progressive metal innovators Voivod, LA hip-hop band Audible Mainframe, and one of Dave Navarro's favorite new rock acts, Echoes de Luxe.
About FourFour:
FourFour is the only free website platform built exclusively for bands and musicians. FourFour offers bands a better way to create, design and manage their official website - providing a fully-integrated set of services that cover hosting, content management, mailing list, direct-to-fan sales, custom design, and more.
To find out more, please visit
http://www.FourFour.com
About ArtistData:
ArtistData is a leading provider of solutions designed to automate and centralize the process of updating tour date information across artist websites, social network profiles, concert databases, Twitter, official news feeds, iCal, local press, fan newsletters, and tour books.
To find out more, please visit
http://www.ArtistData.com