Acmamall.com Sweepstakes: Win and share 2 Iphones 3GS with your friend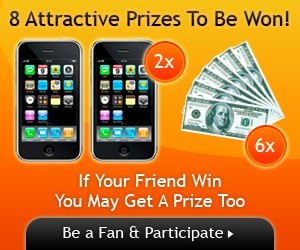 Acmamall.com is holding its
New Year Sweepstakes
. The online mall will be giving away the grand prize of two iPhones 3GS 16GB and three consolation prizes of US $200. The Sweepstakes is now live and expires on 15 March 2010. The grand winner will win 2 unlocked iPhones 3GS 16mb with no contracts, of which one iPhone will be given to the winner's referrer. Three consolation winners will win US $200 cash which they will also share US $100 with their referrer.
"The cool part of this sweepstakes is that the more friends you invite, the higher chance it is for you to get an iPhone because if your friend wins the iPhone, you get one too!" said Henry Tanaka, Product Manager of Acmamall.com.
The Sweepstakes follows the hugely successful campaign of providing free shipping to Singapore and Malaysia for any books purchased, in which Acmamall.com saw a significant jump in book sales and gained many new customers.
"We are moving towards engaging our customers at a more personal level, this means building on our social media networks to connect and interact with our customers and friends." said Christopher Quek, CEO, Acmamall.com."We look forward to hearing from our customers about their product needs and service requirements. By providing Sweepstakes with attractive prizes such as iPhones, monetary rewards as well as exclusive discount codes in our Facebook fan page is just a way of thanking our customers for their continual support."
Email Acmamall e-stores Pte Ltd