Wix Flash Website Builder Gains Deep Linking Capabilities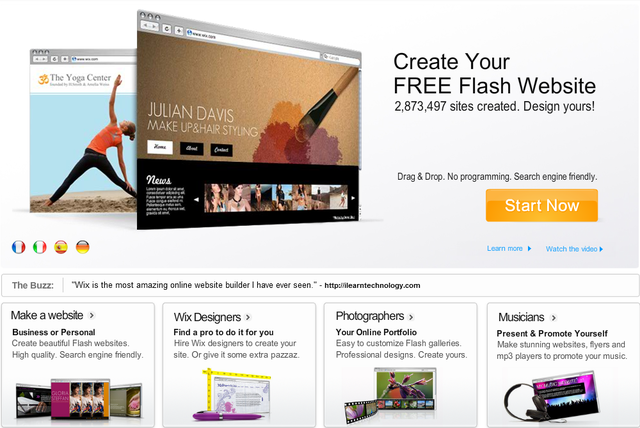 Wix.com is a start-up company that has been gaining a lot of impetus of late. After launching its beta technology in 2005, the company introduced its
website builder
technology to the general public in 2007 and already has over 2.5 million users.
Wix's software technology makes it possible for anyone to create a
Flash website
easily using a simple drag and drop interface, while achieving results that are far from simple. Wix also provides a large collection of
free Flash templates
, thanks to which it possible for a non-technological public to enjoy professionally designed Flash designs and attain professional results. Incredibly, they have also been able to develop a solution to what has been the traditional setback in Flash websites, the websites' compatibility with search engines. Thanks to the new technology developed by this start up, their Flash websites are capable of being crawled and indexed by all the search engines, making Wix a particularly great solution for small businesses, non-profit organizations, photographers, musicians and other entities with monetary constraints.
In its next version, expected to be launched towards the end of this week, Wix is pushing the envelope even further, by creating separate URL's for each of its website pages. Until today, Wix users enjoyed an personal URL for their website, with which it is possible to promote the entire website as a single unit. This new technological innovation will make it possible to promote individual pages, pushing the search engine optimization capabilities up several notches and opening Wix up to an even greater audience.
The ability to have separate URL's for each page will also make it possible for Wix website users to direct visitors directly to individual pages within their Flash website and not just the home page or landing page. In its first stages, this feature will be enabled for pages only and not for mini-pages, although a further development of this feature is already in the works.
Another feature that is expected to be introduced to the
website builder
in the near future will allow for integration of html within the Flash website code. This html component will enable users to embed html code from 3rd parties, such as Facebook, twitter, polls, weather reports etc., into the website code, further improving the website's performance and taking Wix higher up the ladder as the ultimate solution for the creation of free and professional websites.