LAUNCH OF THE FIRST-EVER ONLINE GARDEN DESIGN COURSE AT THE OXFORD COLLEGE OF GARDEN DESIGN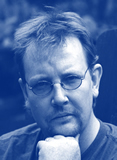 Award-winning British garden designer, Duncan Heather, will launch the world's first-ever interactive online garden design course in January (2010) which means you can now train as a top-class residential landscape designer from the comfort of your own home, anywhere in the world.
Heather, founder and principal of the prestigious Oxford College of Garden Design (
www.garden-design-courses.co.uk
) which has trained most of the country's top contemporary designers; including the award-winning, Charlotte Row, Olympic garden designer, Sarah Price and the SGD garden designer of the year Sarah Naybour, was himself trained by Britain's best-loved octogenarian designer and garden writer, John Brookes OBE, whom many regard as one of the world's top five garden designers of the 20th Century.
"I pride myself on the fact that the Oxford College of Garden Design has always been a market leader in technology and innovation," says Heather whose online course goes live at midnight on January 28th, 2010.
"We have seen over the last few years how our students have benefitted from the use of technology in the classroom and have designed the online course so that seminars will coincide in real time with classroom lectures and, uniquely, our on- and offline students can learn together."
The one-year course now being offered online provides a University accredited post-graduate qualification in Residential Landscape Architecture. It also, says Heather, will significantly reduce the carbon footprint of both students and the college; allowing those who want to train as garden designers to do so from the comfort of their own homes anywhere in the world and without long commutes to the Oxfordshire classrooms.
In the decade since the Oxford College of Garden Design first started, it has attracted students from around the world, including America, New Zealand and Japan and Heather is confident the online course will enable even more students who could not otherwise have been able to relocate to the UK to benefit from the same high standard of training as those based in the UK.
Each on-line participant will be allocated their own qualified garden designer tutor and will follow the exact same timetable as the on-site classroom students. Scientists have already shown how "whole brain training" will be the foundation of a new wave of 21st century education and the Oxford College of Garden Design is one of the first UK organisations to offer that pioneering technology to students around the world.
Email The Oxford College of Garden Design