CustomerGauge introduces new b2b survey tool for Net Promoter Score with publishable Document of Record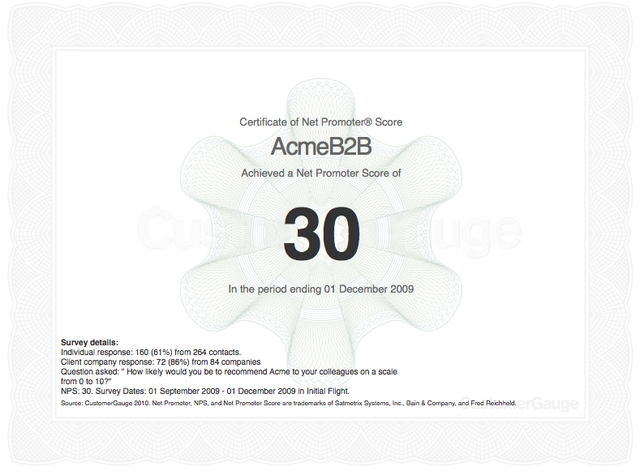 CustomerGauge, provider of a hosted software solution for automatically surveying customers and calculating Net Promoter® Score, today announced a new tool designed for small and medium enterprises. The new tool, "CustomerGauge b2b Edition", allows companies to survey their customers or channel partners using the enterprise-standard Net Promoter Score, quickly, easily and at a breakthrough cost.
In response to the recent trend of companies announcing a Net Promoter Score without qualifications, the new CustomerGauge tool features a Net Promoter Score "Document of Record" listing the relevant information. This document acts as a certificate, and can be published internally within the organisation, or displayed online publicly to support press releases and act as a benchmark.
"We have been collecting company scores on press releases for our Net Promoter News site for over a year," says Adam Dorrell, Managing Director, CustomerGauge "and we have seen a wide variety reporting methodology, using different scales or with no sample size detail. To help the growing Net Promoter community, we have developed a Document of Record, which lists the relevant information in a certificate format. Using this certificate will allow companies to establish a new credibility with their Net Promoter Score reporting".
CustomerGauge b2b Edition also features HTML branded emailing with reminders, surveying in multiple languages, a real-time dashboard, advanced reporting showing scores for customer companies and individuals, segmented scoring and classification of "voice of the customer" comments. It also includes many features found on high-end systems – for example, results for separate divisions can be rolled up on to a single dashboard for internal comparison.
CustomerGauge b2b Edition is available immediately. Clients can be surveying within a few days, with results usually with 24 hours. System pricing starts at €3900 (approx US $5490), including three month subscription.
CustomerGauge
For product details and online demo, please contact
info@customergauge.com
.
About CustomerGauge
CustomerGauge measures loyalty and collects feedback to help companies to understand customer sentiment, centered around the Net Promoter Score standard. It is optimized for e-commerce and can be rapidly deployed anywhere in an organization, without investment in capital equipment or IT assistance. Customers include Philips, Canon and CMC Markets. The company is based in Amsterdam, NL.
About the Net Promoter Score:
Net Promoter® is both a loyalty metric and a discipline for using customer feedback to fuel profitable growth in businesses. Developed by Satmetrix, Bain & Company, and Fred Reichheld, the concept was first popularized through Reichheld's book The Ultimate Question, and has since been embraced by leading companies worldwide as the standard for measuring and improving customer loyalty. Details:
www.netpromoter.com
*Net Promoter, NPS, and Net Promoter Score are trademarks of Satmetrix Systems, Inc., Bain & Company, and Fred Reichheld.
Note to editors: View an example of the certificate online here:
http://c1-gauge.com/b2b/Certificate
The Net Promoter News site is here:
http://www.netpromoternews.com
The non-qualified score reporting is covered here:
http://customergauge.com/2009/09/net-promoter-news-standardising-on-a-net-promoter-score-reporting-format-snps-09/
Press Details: Camilla Scholten
Camilla.scholten@directness.net
Directness BV
Silodam 253
Amsterdam 1013AS
Email CustomerGauge (Directness BV)