Interactive Marketing Company Location3 Media Significantly Reorganizes Executive Leadership Team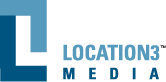 DENVER, CO – To keep pace with the ever-changing interactive marketing industry, Location3 Media has continually adapted and expanded over the years. The Denver-based interactive marketing company has significantly broadened their service portfolio, nearly doubled staff in the past year alone and, now, is undergoing a dramatic shift and expansion within the executive team. Former President Andrew Beckman is now assuming a CEO role; Former Vice President Alex Porter is taking over as president; Samantha Bedford has stepped up as senior vice president, account services; Chris Wiederspan is now vice president of technology; Former Strategic Optimization Specialist Jared Schroder has been promoted to director of paid search; and Brian Murphy has been hired as the new director of sales and marketing.
"Our roles have been evolving for some time, we're just now making it official," says Andrew Beckman, past president/now CEO of Location3 Media. "These changes only affect the big picture. Our employees, clients and business partners won't notice much of a difference in day-to-day operations."
Location3 Media has grown exponentially in the past few years, solidifying and streamlining company structure along the way. As the client base and demand for services grew, Location3 had to add more staff, thus necessitating a clearer understanding of employee roles and responsibilities. Departments were formed for the various services (e.g.,
PPC management
, SEO, social media, web analytics,
local search marketing
, web design/development and more); employees were given more specialized positions and tasks; and a sensible chain of command was established to streamline processes and smooth client communications. These structure changes necessitated some reorganization and additions to leadership roles.
After founding Location3 in 1999 and serving as president for the past decade, Andrew takes on a broader role, focusing on the overall health and vision of the company. Stepping up as president, Alex assumes more responsibility with Location3's financial operations. As SVP, Samantha Bedford oversees the development, management and execution of all client campaigns across all departments. Chris Wiederspan is now VP of technology as head of the growing tech department. Moving beyond the continual optimization of PPC campaigns, Jared Schroder is now responsible for overseeing the entire paid search department and all programs. And taking over Alex's previous business develop duties is new-hire Brian Murphy. The new titles more accurately reflect current and new responsibilities, and help to further organize company structure and client campaigns.
"As a child, the number one job I wanted when I grew up was president of the United States," says Alex Porter. "But president of Location3 is a close second. I'll take it!"
For more information about Location3 Media, visit
www.Location3.com
or contact Angie Pascale: 720.881.8528 | apascale @ location3.com |
@AngiePascale
.
About Location3 Media
Location3 Media is an
interactive marketing company
with emphases on search marketing, social media and creative services. For over a decade, Location3 Media and its division, Local Search Traffic, have been helping clients to increase conversions, drive additional traffic and improve user experience through integrated marketing programs. Whether clients' goals are increased conversions, additional traffic or improved user experience, Location3 can help. From click to conversion, Location3 Media is a complete interactive marketing solution!