Storm Copper's Free PDF Download – A Guide to Flexible Electric Connectors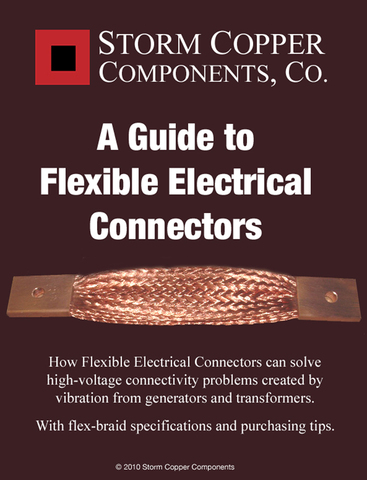 Storm Copper Components
, a leading manufacturer of copper electrical connectors, is pleased to announce the creation of yet another product guide designed to assist OEMs, electrical engineers and system installers at solving operational and design issues. "A Guide to Flexible Electric Connectors" is now available free as a one-click download in PDF format at the Storm Copper website.
In straightforward terms, "A Guide to Flexible Electric Connectors" explains how flexible electrical connectors, also called flex braid or flexible jumpers, can solve high-voltage connectivity problems created by vibration from generators, turbines and transformers. In addition to the causes and effects of vibration, the guide simplifies the process of selecting the proper
flexible copper electrical connectors
by offering flex braid specifications and helpful purchasing tips.
After working with electrical engineers for many years, Storm Copper has learned the ins and outs of the copper flex braid selection process. This experience has led Storm to understand that most engineers know how flexible connectors solve the problem of vibration, yet many remain challenged by factors relevant to selecting the best flex-braid connector for a specific application. These factors include physical design features such as connector hole patterns, length, ampacity, strand patterns of copper flex braids and the subtle difference between flat and round copper braid.
One of several
product guides from Storm Copper
, this new guide to flexible braided connectors discusses all of the considerations required for copper flex braid selection, including a brief explanation of the manufacturing process that provides insight into Storm Copper's quality engineering. Information about the advantages of tin-plating is also included along with the issue of matching metals to prevent galvanic corrosion.
A handy specifications chart – provided on the last page of the guide – works as a key to simplify copper flex braid selection by displaying significant variables in a spreadsheet format, where comparison of capacity and other characteristics is much easier to visualize.
To access the free PDF download of the product guide, visit the Storm Copper Components website landing page for
Flexible Electrical Connectors
. The link also appears on this month's (February) issues of the PQ Newsbeat electronic newsletter.
Storm Copper Components is committed to meeting its customer's requirements by providing innovative, cost-effective solutions and by focusing on continual improvement of all our products, processes, and services. For 20 years, the company has specialized in the manufacture of
custom electrical connectors
for the wireless, telecommunications, power and alternative energy markets, serving OEM's, electrical contractors and system installers.
For more information, or to schedule an interview with co-owner Dan Kitts, please call Dave Krikorian at 1-800-334-2177 or email
dkrikorian@stormcopper.com
.
Email Storm Copper Components