Introducing the NZ3000 Wood Burning Fireplace by Napoleon Fireplaces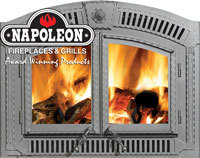 Crittenden, Kentucky - February 10, 2010 - Napoleon's NZ3000
wood burning fireplace
is the newest edition to the powerful High Country™ Fireplace Series. The NZ3000 offers superior construction with a midsized firebox and advanced EPA technology. Ultra high efficiencies allow for easily sustained overnight burns with a superior firebox construction that is guaranteed to last a lifetime.
"No other hearth manufacturer in North America has perfected the art of wood burning to the level that Napoleon® has," says Cliff Lilley, Vice President of Research and Development at Napoleon®
fireplaces
, "Dedicated research, strict quality testing and patented wood burning technology have surpassed critical standards, providing you with the cleanest, most efficient wood burning products."
Only Napoleon® offers wood burning fireplaces built to these high quality standards. Find out more about the difference quality makes at the Napoleon® Fireplaces Website.
About Napoleon Fireplaces:
Napoleon® is North America's largest privately owned manufacturer of quality gas, pellet and
wood burning fireplaces
, inserts and stoves, gourmet grills, outdoor living products and indoor waterfalls.
Napoleon's commitment to producing
fireplaces
,
grills
and
indoor waterfalls
combined with honest, reliable service has proven to be a successful framework to ensuring the continued growth of the company. Napoleon® is an ISO9001 ‐ 2008 certified company and operates with over half a million square feet of manufacturing space and over 500 employees with US headquarters in Crittenden, Kentucky.
We take pride in our
Fireplace dealer network
stretching across North America – contact a Napoleon® Authorized Dealer in your area to see the difference Napoleon® Quality makes.
Email Napoleon® Fireplaces