ACOM Delivers One-Click Access to Files in EZContentManager and Microsoft SharePoint from Desktop Applications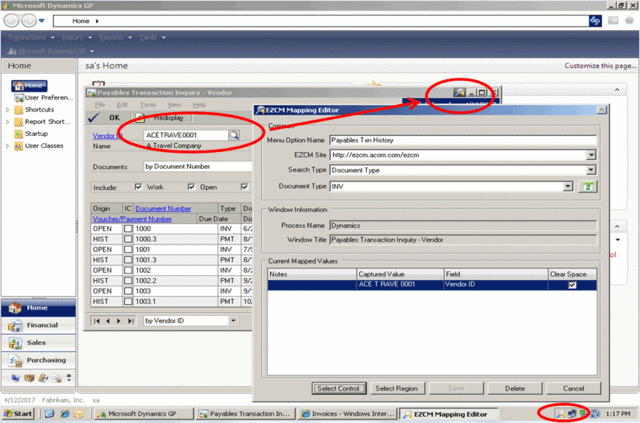 ATLANTA, Georgia, February 10, 2010 – ACOM Solutions, Inc. has enhanced the EZRetrieve module for its EZContentManager (EZCM) electronic
document management system
with data retrieval capability that is operational from within any on-screen application and in addition, it has enabled the module to run as a free-standing utility able to perform Microsoft SharePoint searches as well.
According to Product Manager Angela Doolittle,
EZRetrieve 2.0
provides a direct connection to data in EZContentManager or SharePoint from any defined point within an application. EZRetrieve runs in the background of the application being used, and can be accessed by means of a button created in the task bar. With the new integrated buttons, there are now two user options for accessing files and performing data searches: hot-keys and buttons, with user preference determining which one to use.
"This is a major time and convenience advantage in busy back offices," Doolittle said. "Buttons can be tied to key fields in just a few minutes. Different departments – accounts payable, accounts receivable, human resources, etc. – each have different requirements and EZRetrieve 2.0 can be set up quickly to support each group's needs."
Doolittle noted that for customer service representatives who frequently look up invoice numbers, sales order numbers, and check numbers, EZRetrieve will enable them to search from any field from the screen and retrieve related documents from EZCM or SharePoint without having to physically launch EZCM or SharePoint. Such enhancements save steps, making the office more efficient, and the end-result is better customer service.
Retrieval of documents and files is seamless, Doolittle added, noting that EZRetrieve is compatible with all ERP and business software solutions. No customization is required and installation is quick and intuitive with user-selectable URLs, names and passwords changeable on the fly. Base price is as low as $995, with tiered pricing based on number of concurrent users. It is available by calling 800-699-5758 or email
sales@acom.com
About ACOM Solutions, Inc.
For over 27 years, ACOM has been automating document and payment processes for more than 4,000 organizations, across all industries. Developing solutions that are best suited for tactical deployments in the accounting/financial departments of mid-size organizations, ACOM's solutions integrate with any financial/ERP system to extend their capabilities to dramatically improve an organization's efficiency by automating their previously manual, paper-based processes, and significantly decrease an organization's costs. For more information, call 800-699-5758, email
sales@acom.com
, or visit
http://www.acom.com
For more information about partner opportunities, call 800-347-3638 ext. 108, email
partnerinfo@acom.com
, or visit
http://www.acom.com/channels
Email ACOM Solutions, Inc.