Fraunces Tavern Restaurant To Change Management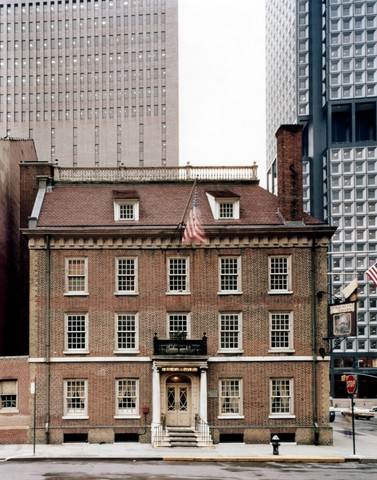 New York City, February 10, 2010 - It was announced today by the Sons of the Revolution in the State of New York, Inc., owner of the Tavern building which houses the restaurant of the same name, that effective Saturday, February 13, 2010 its present restaurant tenant, 54 Pearl Street Associates, will no longer be managing the Restaurant. The reason cited by the tenant was the national economic recession.
Operations are expected to continue under new management. It is possible the Restaurant's doors may be closed briefly-perhaps a week-to make preparations for the new tenant. Further details were not available at this time.
Fraunces Tavern Museum, which operates upstairs at the same address will not be affected and will continue operations without interruption.
"We will simply be arranging for a new tenant, otherwise the Museum and everything else at the five-building Fraunces Tavern complex will continue as usual," said Sons President Charles C. Lucas, Jr., MD, adding, "There has been a restaurant at this corner since 1762 and we want to assure the public that tradition will continue."
Damon Testaverde, partner and spokesman for 54 Pearl Street Associates said, "This was not an easy decision for us because it was more than just a business venture—it was a partnership in history. We have been honored to be the most recent 'tavern keepers' at this location whose tradition dates back almost 250 years."
Dr. Lucas thanked Testaverde and his partners for "sticking to their guns" for almost ten years at the Tavern. "We wish Damon and his partners all future success," he said.
Fraunces Tavern was built in 1719 as an elegant residence and purchased in 1762 by tavern-keeper Samuel Fraunces. The tavern played a significant role in pre-Revolutionary War activities, and later housed early U.S. government offices of the Departments of War, Treasury and Foreign Affairs (today's State Department). It is best known as the site where General George Washington bade farewell to the officers of the Continental Army on December 4th, 1783.
In 1904, the Sons of the Revolution in the State of New York purchased the tavern, saving it from the wrecking ball. A restored Fraunces Tavern was opened to the public in 1907 featuring a Museum and Restaurant. Both operations have continued, independently run, to this day. In 2008 Fraunces Tavern was added to the National Register of Historic Places.
The Sons of the Revolution in the State of New York, Inc., a not-for-profit corporation, was instituted in 1876 and incorporated in 1884. For more information on it and Fraunces Tavern Museum, visit
http://sonsoftherevolution.org/
and
http://frauncestavernmuseum.org/.
Or contact Anthony Wellman, Communications Director, Sons of the Revolution in the State of New York, Inc., 54 Pearl Street, New York, NY 10004. Telephone. 212-425-1776.
Email Sons of the Revolution in the State of New York, Inc.