Nexus One Skins Introduced by Unique Skins for New Google Cell Phone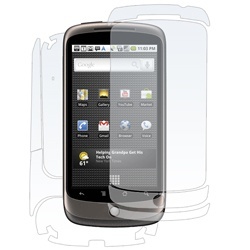 The Nexus One, the first smart phone available from Google, is now supported by custom skins manufacturer Unique Skins.
The phone, which operates on the Android platform, offers users many ways to customize their experience through many applications and options, but not much within custom design. Unique Skins offers custom printed, precision cut skins to personalize Nexus One phones as well as many other devices.
Not only can Unique Skins customize make
Nexus One skins
with personal designs, photos or text, but there are many options available in terms of style and protection. Basic vinyl skins are a simple way to customize the device. For a 3-D look, custom gel skins are available and offer additional protection with a hand-applied resin coating.
For more enhanced protection, there are customizable or clear
scratch resistant skins
available through Unique Skins. The skin is coated with a special high gloss scratch resistant material, that features a "self healing" technology that allows most dings and scratches to heal after 24 hours. These skins include a scratch resistant skin for both the front and back of the phone, and a scratch resistant screen protector.
All skins are made from premium 3M material, precision fit, and non-permanent backing ensures that skins will not leave residue or void your warrantee.
Nexus One skins
start at $6.99.
Unique Skins was formed in 2006 with the goal of providing the highest quality cell phone skins, iPod skins, laptop skins, Bluetooth headsets, and gaming console skins. Uniqueskins.com offers a complete "customizer" to design and preview your own custom designed, branded and personalized electronic device. Learn more about Unique Skins and supported devices such as the Nexus One, visit
http://www.uniqueskins.com/Products/Custom+Google+Nexus+One+Skin
.