Sweet Events and Planning Deemed "Sweetest Booth" by Washington Bridal Showcase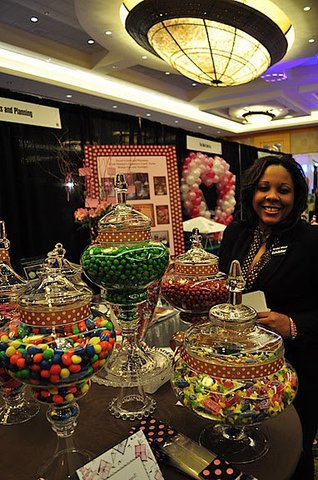 (Bethesda, Md. – February 18, 2010) Sweet Events and Planning was recognized by the Washington Bridal Showcase as one of the "sweetest" booths at the January 24, 2010 show held at Bethesda North Marriott Hotel and Conference Center in Bethesda, Md. Brides, grooms and other guests lined up to fill their complimentary candy bags with sweet treats in the old-fashioned Apothecary jars from the Sweet Events and Planning Signature Candy Parlor ™.
"We are honored by the compliment and were very excited to participate in this year's Washington Bridal Showcase," said Felicia Evans Long, creator and owner of Sweet Events and Planning. "We love what we do and the traffic at our booth reflected that."
Evans Long first created the Signature Candy Parlor for her wedding in 2006 and it has since become a customer favorite. Guests are given festive bags to load up on as many candies as they please.
The company was started by Evans Long and her husband Tim Long in 2008. She brings more than 10 years of event planning expertise and latest trends while staying true to her native North Carolina roots of Southern hospitality and etiquette.
Persons seeking help for an upcoming event can find Sweet Events and Planning at
www.sweeteventsandplanning.com
, at A Grand Event Party Rentals, 5020 Nicholson Court, North Bethesda, Maryland 20895, or by calling (973) 493-3579. The company is also listed as a vendor on Martha Stewart's partner site WeddingWire.com at
www.weddingwire.com
.
For more information on the Washington Bridal Showcase, visit
bridalshowcase.com
.