ABC Health and Medical Editor and former CDC director, Richard Besser, M.D. accepts Saint Joseph's Mercy Care Services Award in Atlanta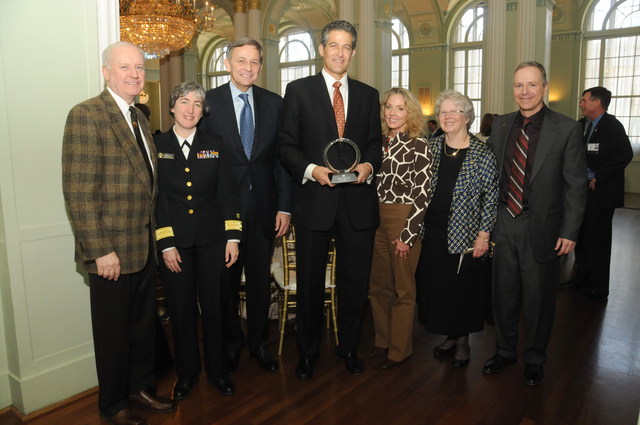 Atlanta, GA (February 20, 2010) - On Wednesday, February 18th Saint Joseph's Mercy Care Services presented ABC News' Senior Health and Medical Editor, Richard E. Besser M.D. with its annual Mercy Moves Through Me Award.
Besser, known to many in attendance as Rich, graciously accepted the award before addressing the crowd of several hundred people. Prior to moving to ABC News, Besser called Atlanta home, serving as both the Acting Director at the Centers for Disease Control (CDC) and the CDC's Acting Director of the Coordinating Office for Terrorism Preparedness and Emergency Response. In those roles, Besser gained national recognition as he lead the CDC and the country through its response to the "swine flu" influenza outbreak.
Just returning from Haiti, Besser addressed in his speech the importance of mission work in serving devastated parts of the world as well as the impact volunteerism has locally in the immediate community. As part of his continued commitment to volunteerism, Besser made it a stipulation in his contract with ABC that he be allowed the freedom to continue his humanitarian work within his role as a television journalist.
Besser was selected for The Mercy Moves through Me Award for his committed and outstanding service and advocacy for the underserved. During his tenure in Atlanta, Besser made powerful impressions in the hearts and minds of the Saint Joseph's Mercy Care Services' staff. For more than ten years, Besser volunteered as a pediatrician at Mercy Care's Central Health Center, Casa San Jose in Grant Park, and could be found every Thursday of the week at Mercy Clinic North on Buford Highway. In all instances, he served and comforted the families he saw, doing so with "deep concern and profound calm" and extraordinary selflessness.