Tin, Silver, Nickel and Lead Plating - Cost-Saving Advantages From Storm Copper Components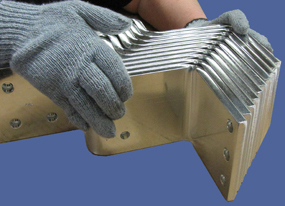 Known for streamlined fabrication of copper electrical connectors, Storm Copper Components reminds OEM's and systems installers to take advantage of another of its cost-saving production capabilities:
tin, silver, nickel and lead plating
, done in-house at Storm's east Tennessee production facility.
All too often electrical parts manufacturers have to send out copper connectors to outside vendors for plating or coating, a lengthy process that requires excess packaging, additional freight costs, lost time and risks that commonly occur in shipping. When the plated copper components are returned for testing before delivery, even the slightest scratch in the plated surface can lead to rejection and delays to the customer.
Storm's electroplating options for copper electrical connectors include bright tin plating, matte tin, nickel, silver, various tin/lead alloys and pure lead.
Storm Copper
offers this diverse offering of plating options to meet the many varied requirements dictated by a wide variety of industry applications.
For example, tin is a common plating metal most often specified applications like power sub-stations, tower grounding, and high-voltage connections. Tin plating is fairly inexpensive, protects copper from outside environmental degradation that damages connections, masks copper from thieves by destroying its value to recyclers.
Storm's electroplating process incorporates an electrolyte bath where electrical connectors such as
copper bus bars
are fully immersed to produce a uniform coating over edges and the rounded surfaces of bus bar holes and bends. For better-quality, Storm uses a trace amount of lead in its tin plating process to prevent the occurrence of tiny crystalline structures called "whiskers" than are electrically conductive and can be broken off during installation, increasing the potential of electrical hazards.
Silver plating is popular in the switchgear industry because it is very good on surface-to-surface conductivity. Because of its high cost, silver is generally limited to application on contact points where two components are joined together.
In applications where lead-acid or wet cell batteries are used, caustic materials or vapors can degrade
electrical battery connectors
, lead is the preferred plating because it is impervious to sulfuric acid.
No matter what environment or application, Storm offers a clear edge to OEM's and systems installers through its cost- and time-saving capability to plate tin, silver, nickel and lead in house.
Storm Copper Components is committed to meeting its customer's requirements by providing innovative, cost-effective solutions and by focusing on continual improvement of all our products, processes, and services. For 20 years, the company has specialized in the manufacture of
custom electrical connectors
for the wireless, telecommunications, power and alternative energy markets, serving OEM's, electrical contractors and system installers.
For more information, or to schedule an interview with Dan Kitts, please call Dave Krikorian at 1-800-334-2177 or email
dkrikorian@stormcopper.com
.
Email Storm Copper Components