PIEDMONTESE BEEF SHINES BRIGHT AT CHEF'S DINNER IN LAS VEGAS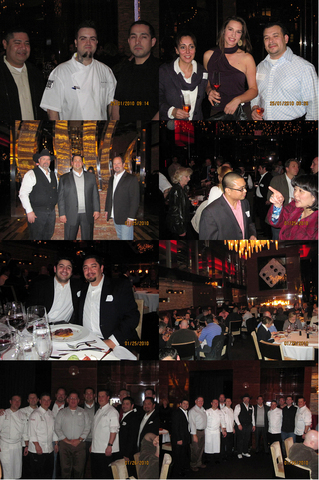 The culinary elite of Las Vegas were introduced to the world's premier all natural beef, Certified Piedmontese Beef by Montana Ranch Brand, at the famous T-Bones Chophouse & Lounge in the Red Rock Resort & Spa.
Thanks to recent media attention and movies like Food Inc. there has been a growing trend in the food service industry to feature healthier all natural ingredients. Amidst the bright lights and glitz of the Las Vegas strip is one of the greatest concentrations of celebrity chefs and celebrated restaurateurs who are driving this trend to serve the highest quality all natural ingredients. One key ingredient that is finding its way onto menus and receiving a lot of industry attention is Certified Piedmontese Beef. This elite Italian breed of cattle is known for producing the most tender beef with less fat and cholesterol then other breeds.
The most celebrated culinary stars of Las Vegas came together at T-Bones Chophouse at Red Rock Resort & Spa for an incredible Chefs Dinner hosted by Premier Meats. This was the largest event of its kind where over eighty of the greatest chefs from the top restaurants in Las Vegas were treated to eight amazing courses that featured Piedmontese Beef by Montana Ranch Brand paired with wines from Stags Leap Cellars. Executive Chef Joseph Kudrak was one of the first chefs in Las Vegas to feature Piedmontese Beef on his menu at the award winning T-Bones Chophouse & Lounge. Chef Joseph is known for utilizing a diverse selection of ingredients to create elegant dishes and this night was no exception.
The evening opened in the stunning lounge and patio area with a champagne reception and appetizers that included Piedmontese Beef Tongue "Mini Reuben", Steak Tartare, and Beef on Weck. Guests were then invited to take a seat in the grand dining area of T-Bones Chophouse for seven more amazing courses.
The culinary elite of Las Vegas were delighted by course after course of artfully presented dishes that showcased this remarkable beef. The first offering was a melt in your mouth Piedmontese Beef Carpaccio paired with Stag's Leap Wine Cellars, Sauvignon Blanc. The next course, Salad Lyonnaise, had everyone commenting on the creative use of Piedmontese Beef Bacon. Every guest enjoyed the tender Morel Dusted New York Strip with Foie Gras and the smoky Mesquite Grilled Skirt Steak, but it was the Braised Beef Cheeks that had the chefs commenting on how unbelievably tender the beef was.
Executive Chef Joseph Kudrak and his staff at T-Bones Chophouse did an outstanding job of introducing Piedmontese Beef to Las Vegas and showcasing the attributes of this remarkable product. Those attending this event were amazed that a lean beef that is lower in fat and cholesterol could produce such exceptional tenderness, flavor and plate performance. As a result of this event, several of the chefs in attendance have are now featuring Certified Piedmontese Beef by MRB at their Las Vegas restaurants.
Piedmontese Chefs Dinner in Las Vegas – Notable Attendees
This event was attended by a mix of high profile talent from the Las Vegas area including chefs, culinary experts, wine experts, various trade experts and culinary media personalities. Below is a list of some of the notable talent in attendance.
CELEBRITY CHEFS & INDUSTRY PERSONALITIES
JOHN DELOACH
BILLY BOYLE
FRANK CERVANTES
MARK MARRONE
GREG KONKLIN
JOHN BRUNING
ROYDEN ELLAMAR
SEAN GRIFFIN
PHIL NICHOLSON
MICHELLE DUDENAKE
MARK DUDENAKE
LARRY GEVER
MIKE MASTERSON
AARON SHILLING
SEAN GOE
THOMAS CULLEN
LUIS WILSON
JOE ELEVADO
BEN DAYAG
MARC ZIMMERMANMATT BETA
NOEL SANTOS
VINCENT POUSSEL
ALEX STOPPA
HERMAN CASTELLANO
MICHAEL ROSENHOOVER
GRANT STANLEY
TIM VANSELOW
SCOTT Mc CARTER
MIKE TERPSTRA
HAMILTON GILBERG
NICK LITTERSKI
BILL RUMBOLZ
MICHAEL CARRIGAN
KEN JOHNSON
JON SIDWAY
WAYNE BACH
KAREN ASHE
JOUNG SOHN
ABOUT PIEDMONTESE BEEF by Montana Ranch Brand
Montana Ranch Brand is proud to offer the world's premier natural* beef - Certified Piedmontese Beef. The Piedmontese breed of cattle originated in the foothills of Italy and its unique beef has been a traditional favorite in authentic Italian kitchens for many generations.
Today, we have hardworking family ranchers who are raising this delicious, wholesome beef here in the United States. Montana Ranch Brand is committed to maintaining the integrity, quality and superior characteristics of this breed by defining and enforcing strict ranching standards from birth to harvest. Naturally having less fat and cholesterol than traditional beef, our Certified Piedmontese Beef meets the demands of the health-conscious consumer while delivering an exquisite, world-class taste and tenderness with every cut.
Montana Ranch Brand™ Certified Piedmontese Beef is nature's perfect combination of nutrition and taste. It is tender, juicy, full-flavored beef with less fat and cholesterol than traditional beef. Our Ranchers raise their animals the way nature intended - on open rangelands where they enjoy peaceful surroundings and the finest resources nature has to offer.
To maintain a superior level of wholesomeness, their ranching standards include:
* Raised without the use of antibiotics – ever!
* Raised without the use of added growth hormones or steroids – ever!
* Raised only on vegetarian feed - no animal by-products – ever!
* Source verified to working family ranches for traceability – always!
With nothing artificial and minimal processing, you can rest assured that all Montana Ranch Brand™ meats are tender, juicy, and naturally good for you and your family.
Email Montana Ranch Brand