OKLAHOMA BARIATRIC SURGEONS AT WEIGHTWISE REACH NEW MILESTONE WITH GASTRIC SLEEVE PROCEDURES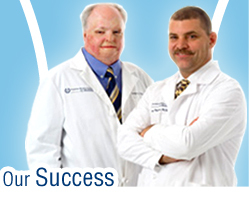 (Edmond, Oklahoma — March 1, 2010) Bariatric surgeons with WeightWise Bariatric Program are reaching new levels of service with their latest accomplishment of performing their 500th laparoscopic sleeve Gastrectomy procedure. Since joining forces in 2006,

Oklahoma bariatric surgeons
, Dr. Gregory Walton and Dr. Toby Broussard have built a premier practice and are becoming some of the most sought after weight loss solution providers in Oklahoma. Their program places an emphasis on education and developing a comprehensive multi-disciplinary approach to weight loss that allows patients to achieve long term goals. The success of their practice has been drawing patients from Eastern Texas, Kansas, Arkansas, Missouri and beyond and their latest accomplishment is not slowing them down.
WeightWise Bariatric Program
has become known for its laparoscopic procedures including the Lap-Band® System and the Realize® Solution. Also known as gastric sleeve resection or vertical sleeve Gastrectomy, the gastric sleeve procedure is a more recent development in bariatric surgery. In this procedure, the bariatric surgeon permanently removes approximately 60 percent of the stomach effectively turning it into a tube or "sleeve" shape and does not reconnect any part of the intestines as in a full gastric bypass procedure. Removing part of the stomach makes the stomach pouch smaller which leads to patients eating less after the operation as a result of feeling full faster than before. The part of the stomach that is removed is also an important area for producing ghrelin, a hormone responsible for stimulating hunger and appetite. And this procedure is also performed laparoscopically!
The bariatric surgeons of WeightWise are pleased with the increasingly widespread acceptance of the gastric sleeve surgery as a relatively new bariatric procedure. The increasing appeal of the gastric sleeve procedure has resulted from those who are concerned by the more complex intestinal bypass or are at higher risk for more invasive procedures. After reviewing data from patients, it showed a remarkable excess weight loss. The amount was surprising to the doctors. "We were also surprised by the effectiveness on Type 2 Diabetes." declared Dr. Gregory Walton. The data demonstrated that 71 percent of the patients who suffered from Type 2 Diabetes before the procedure saw a post operative resolution and another 18% saw an improvement. Further analysis established that 57 percent of patients with hypertension saw a resolution of their condition after surgery as did 35 percent of patients with sleep apnea. Dr. Toby Broussard added, "Gastric sleeve has become an important choice of procedures for our patients."
In a busy practice with a diversity of patients, the gastric sleeve has also become an important tool for bariatric surgeons in treating those who need a jumpstart or bridge to another procedure. A patient who might need a full gastric bypass or duodenal switch but are too ill or obese for the full surgery and do not qualify for gastric banding could be the right candidate for
gastric sleeve
. Performing the gastric sleeve as the first stage of an overall weight loss surgical plan can make a full bypass or switch safer because the patient will have lost weight and likely stabilized their condition. Unlike full bypass or duodenal switch, gastric sleeve doesn't bypass any of the small intestines. Bypassing the small intestine also bypasses part of the stomach where calories are absorbed and patients must be on the watch for nutrition absorption issues. This typically does not occur with the sleeve procedure. "This procedure has shown tremendous success and has proven to be a safe and effective surgical option for weight loss. This is a great milestone for us!" acknowledged Dr. Broussard.
Dr. Toby Broussard received his M.D. at Louisiana State University and completed his surgical residency at Carraway Methodist Medical Center where he developed a strong interest in bariatric surgery. Dr. Gregory Walton earned his M.D. from the University of Oklahoma College of Medicine. His exposure to Bariatrics during his residency continued to interest Dr. Walton. After both doctors developed well-rounded general surgery careers, they joined together to build a leading bariatric practice in Oklahoma, WeightWise Bariatric Program. Both bariatric surgeons are a Diplomat of the American Board of Surgery and fellows of the American College of Surgeons among many other accolades.
Email WeightWise Bariatric Program