High Density Growth Expected in Barrie Condos & Townhomes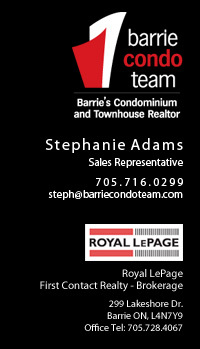 Barrie, Ontario – The Barrie Condo Team is partnering with condo and townhome developers within the City of Barrie in part due to the Province of Ontario's Places to Grow policy.
The province identified Barrie as one of 25 Urban Growth Centres in the Golden Horseshoe area that will be targeted for a city-core density and intensification process. Barrie's goal is to exceed the province's target of 150 people and jobs combined per hectare.
"We look forward to creating business partnerships with Barrie condo and townhome developers looking for unique marketing and sales strategies" states Stephanie Adams, Barrie Condo Team.
This intensification process will focus on developing the downtown core and waterfront of Barrie to reduce urban sprawl, while protecting natural areas, Lake Simcoe, greenspaces and farmland.
The Province's initiative recognized Barrie as a centre that needs high-density vertical-growth, using mixed-use condo and townhome development strategies. The Barrie Examiner recently published a unique example of this vision -
Barrie Condo owners living the high life
.
In preparation for Barrie's forecasted growth and the province's mandate, the Barrie Condo Team has begun building collaborative relationships with condo developers looking to market and sell
Barrie condos
or
Barrie townhomes
.
"As Barrie's development focuses more on condos, we want to create and provide the very best real estate experience for people. We're committed to serving our clients and supporting condo lifestyle, our arts and culture community, our waterfront and our downtown," said Adams.
About the
Barrie Condo Team
The Barrie Condo Team's commitment is: Experience; People; Vision. In spring 2010, we will be launching a condo & townhome focused seminar series to help educate buyers on all aspects of condo ownership including: insurance, mortgages, condo rules, pets, and of course – the remarkable lifestyle opportunity of Barrie.
For more information, follow us on:
Facebook
,
Twitter
and our
Barrie Condos For Sale
Blog
Read more on:
Barrie Condos & Townhomes - Places to Grow