Iraqi Prime Minister Candidate, Dr. Iyad Allawi Taps SAK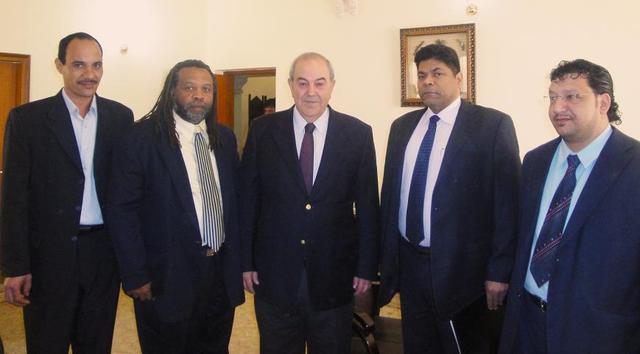 In an effort to emphasize the importance of foreign investment to Iraq's future success, Former Prime Minister and Current Political Candidate for Prime Minister of Iraq: Dr. Iyad Hashem Allawi, invited Sanna Al Kassir (SAK) representatives to Iraqi National Accord's Campaign Headquarters.
Early Saturday morning on the eve of the Iraqi elections, SAK representatives, CEO R M Hultz and Senior Project Director Larry Sowell, prepared themselves for a modest drive through the streets of Baghdad, under some of the tightest security in years, to the Mansur District to meet with Iraq National Accord Leader and Candidate for Prime Minister: Dr. Iyad Hashem Allawi. Dr. Allawi and his staff set aside a full hour to meet with SAK officials to discuss Iraq's future development. Arriving at 9:30 sharp, SAK officials were met by Mohammed K. Hussain and Arkan Hamed Jazl, Campaign Coordinator, in the front of the Party headquarters. While waiting to see Dr. Allawi, an impromptu encounter with a group of local businessmen from Karbala led to discussions about investment opportunities in their region. The timely encounter concluded with a very generous offer by the businessmen to host SAK representatives in Karbala to access those opportunities first hand.
During the meeting, Dr. Allawi and his staff discussed Iraq's recent history to emphasize needed changes and amendments to the Iraqi Investment Law. Mohammed Hussain, Chief of Staff and Deputy Minister of the Environment, said "The current law serves as a foundation to build upon, but there is much more that can and needs to be done to encourage foreign investors to establish projects in Iraq." Dr. Allawi stressed his party clearly understands the importance of the presence of foreign investors in Iraq. That presence is not just a symbol to his country's citizens as signs of progress, but also serves as an indication to the global community that the situation in Iraq has improved to the point that it is safe for foreigners to take more than just a second look at Iraq. Hultz admitted to Dr. Allawi "It's obvious the level of commitment you have for seeking foreign Investment; here you are on the eve of one of the most important days of your life and your country's future and you found some time to share with SAK. I can't find the words to express how appreciative we are for this honor."
SAK reviewed its recent successes in Iraq, referring to the two cement contracts initially worth $300 Million USD and a steel contract worth as much as $500 Million USD over the next two years. Hultz stated these three contracts represent just the beginning of what SAK and its collective investors can execute. "SAK has several investors who are keen to participate in projects related to Agricultural Development, Residential Construction, Petroleum Refining, Petrochemical Manufacturing, Importing Food Stuffs in support of the Bataka Altumwenia, Imports of Construction Materials to support Iraq's reconstruction effort, and Improving Port Facilities in the Basrah District." In addition SAK is considering social service projects such as schools, universities, hospitals and water treatment facilities throughout Iraq."
Hultz conveyed to Dr. Allawi and his Staff, that SAK's mission is to participate in Iraq's reconstruction, in an efficient and cost effective manner, to maximize the outcome for our investors' projects and to the benefit of the Iraqi people. SAK seeks to establish legacy projects that will inspire the Iraqi people for generations to come. Dr. Allawi concluded the meeting with a firm commitment to resume discussions after the election. He stated "Gentlemen, we want to see you back at headquarters as soon as the elections are completed, we need to start the rebuilding of Iraq."
Sanna Al Kassir General Trading Company, in conjunction with its partners, operates offices in Australia, Canada, China, Dubai, Jordan, Lebanon, Switzerland, Saudi Arabia, the UAE and the United States and has maintained an active full time presence in Iraq since early 2005.
Inquiries should be directed to the SAK corporate website
www.sakcommodities.com
For media: email
media@sakcommodities.com
or call: in Arabic contact Ammar Mahdi +964 780 019 1673, in English +964 780 019 1674, and in the United States: Joshua Gunter 001 931 436 8140
Email Sanna Al Kassir General Trading