"How cash-strapped Americans can find the best deals online", The most comprehensive comparison shopping tool is now available for Chrome users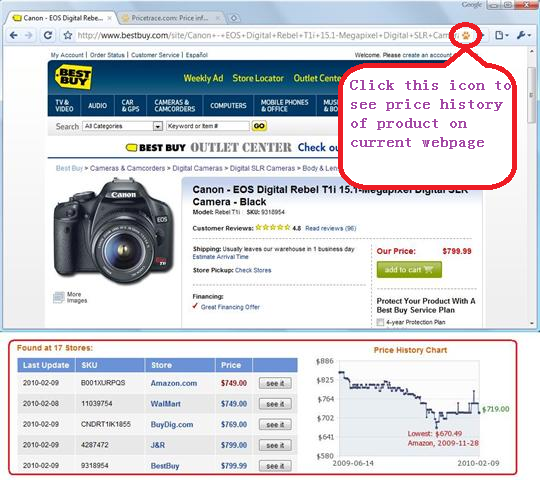 Pricetrace.com has just released a new Google Chrome add-on in addition to their current Firefox add-on. Chrome users can now use this comprehensive comparison shopping tool to compare prices at more than forty of their favorite stores, including Amazon, Walmart, Best Buy, and Buy.com. One-click comparison allows instant savings by highlighting the best prices on favorite products. In addition to price comparisons, users can look at pricing history and request alerts for price drops.
In addition, Pricetrace.com is pleased to announce the support of UK stores going forward. With this new capability Pricetrace.com is truly globalizing comparison shopping. No matter where a good deal is located, online shoppers will find it with just one click.
Pricetrace.com also offers shopping guides for products such as digital cameras and laptops. The website gives users the ability to do their comparison shopping and decision-making from their computers without ever needing to visit a store.
Diana Meller, Chief Marketing Officer of Pricetrace.com says, "shoppers will love the feature-rich Chrome addon and the ability it gives them to immediately find the best deals online."
To learn more, visit the company website at
www.pricetrace.com
or download the toolbar at
Google Chrome's download page
.
Pricetrace.com is a comparison shopping engine, which helps shoppers find the best deals across various online stores. Pricetrace.com offers the most comprehensive comparison shopping toolbar to date and ensures reliable, one-stop shopping by focusing on proven, trustworthy retailers.